BetMGM Ontario Exclusive Sign Up Link For NBA & NHL Playoffs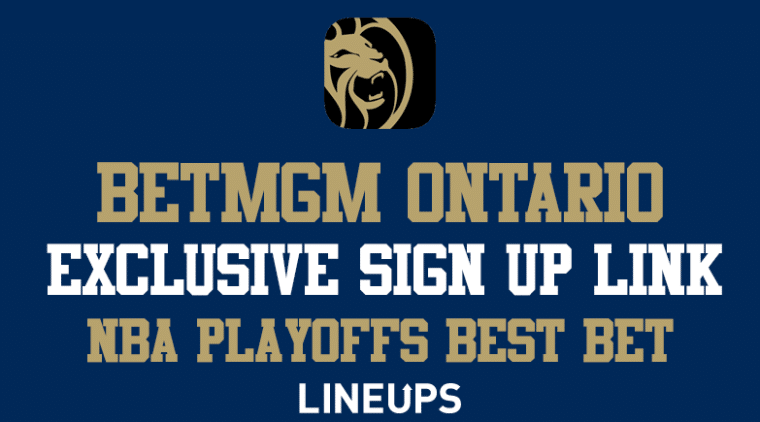 Sports wagering is finally legal in Ontario and that means there's never been a better time to sign up with BetMGM Ontario. With the NBA playoffs picking up steam and the NHL playoffs right around the corner, there is no shortage of high-intensity games for prospective bettors to cash in on. To find out more about how to do this by registering your BetMGM account today — head over to this or click on the banner below.
BetMGM Ontario Has Launched
This is one of the rare times of year when sports fans from all over are able to indulge in high-intensity competition on a daily basis. Not only are the NBA playoffs well underway, but the MLB season is just getting started, and the NHL playoffs begin in 11 days (on May 2). What's more, the NFL Draft is less than a week away. Amidst the craziness, BetMGM has lines and odds for everything. Whether you like making parlays on the NBA Playoffs or straight bets on the NFL Draft, there's no shortage of opportunities on the BetMGM mobile app — available on both Android and iOS.
BetMGM differentiates itself from other competitors in the online wagering space with its easily accessible customer support and its plethora of in-game betting options. Their mobile app is tailored to user preferences and directs individuals to the way of odds boosts and other user offers that aren't available elsewhere in the market. To find out more about some of these deals along with how to sign up, check out our and click the banner with the red button that says "Claim Now".
BetMGM Ontario Best NBA Bet
Raptors vs Sixers Game 4: Raptors +3
Now that you've had some time to acquaint yourself with the BetMGM Sportsbook App, let's look at our expert pick for your first wager: the Toronto Raptors to cover in Game 4 against the Philadelphia 76ers. While this series isn't shaping up how Nick Nurse and the Raptors would have hoped, there is reason to be hopeful if you're a Raptors backer in game 4. For one, it appears that the officiating has balanced out a bit since this series moved to Toronto with the Sixers getting just 2 more free throws than the Raptors in game 3. Embiid is still getting his points, but Maxey and Harden were significantly less effective in game 3 than they were in games 1 and 2. The youthful trio of OG Anunoby, Precious Achiuwa, and Gart Trent Jr., meanwhile, has gotten things going offensively for the Raptors.
The last 3 games between these 2 teams in Toronto have been decided by 5 points or less. While I do think this Raptors team has a good shot of winning this one outright in a must-win game at home, the 3 points allows for a sort of safety cushion in the event that Embiid or Harden pull off some late-game heroics. Toronto has a 51% cover rate ATS at home on the season while the Sixers have a 53% cover rate ATS on the road.
BetMGM Casino & Poker Are Also Live
If you like gaming but aren't very invested in sports — or if you just prefer to use your money in other ways — BetMGM still has you covered with the . By downloading the BetMGM Casino Mobile App, users will have a chance to bring the thrill of the Vegas experience right to their living room. On the BetMGM Casino Mobile App, users will have the option to play everything from table games to online slots to live dealer Texas Hold 'em.
When it comes to its online casino offerings, BetMGM prides itself on being one of the most trustworthy platforms in the industry. Deriving from the esteemed MGM Entertainment brand, BetMGM champions transparency and ease of use with all its users — something that applies to everything from online banking to the legitimacy of the games themselves. To find out more, or to register, head over to the platform.