BetMGM Ontario Welcome Code: MLB Opening Day + Poker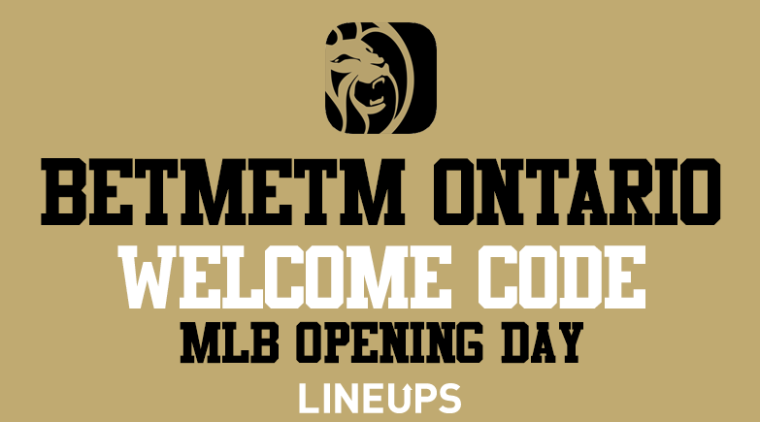 Sports betting has finally launched in Ontario and that means residents of the province are finally able to get in on the action with BetMGM Sportsbook & Casino. For more information on what this means, head over to our .
To sign up today, you can click the link or on any banner on the page! There is no numerical code needed, simply click the link and all the instructions will be provided on the landing page!
BetMGM Ontario Has Launched
The people of Ontario certainly knew what they were doing when they picked this week to launch sports betting. Not only are the NHL, NBA, MLB, and the Masters all going on right now, but they're all reaching critical points as an entertainment — and betting — product. With a number of options out there, BetMGM has emerged as one of the preeminent sportsbook and casino apps out there. A large part of their dominance as a platform can be attributed to their easy-to-use mobile app which comes equipped with a plethora of betting options. Things such as player props, alternate spreads, same game parlays, and more — all of which are updated in-game — are easy to access and free for everyone to use.
BetMGM Ontario Welcome Code
Note that in accordance with AGCO guidelines, we are not allowed to provide any information on BetMGM bonus code offers. This means that you must head over to BetMGM Ontario to find out any information on any possible welcome offers. You can click the exclusive LINEUPS to head over and check the landing page now.
BetMGM Ontario Best MLB Bet
Blue Jays ML on April 8th and 10th vs Rangers
Now that you're a little more acquainted with the BetMGM Sportsbook App, it's time to start wagering. The Toronto Blue Jays opened the season as favorites to win the AL East at +185 on . To do so, they're going to need to get off to a hot start with some wins here in April. Starting off their season on Friday, April 8th, I like the Blue Jays to beat the Rangers by more than 1.5 runs. The Jays have matched up well with the Rangers historically, outsourcing them 36-13 in 2021. Texas's bullpen is still a little shaky, while the Blue Jays have established who they are with a stronger veteran presence. I like the Blue Jays to win 7-4 on Friday and to also win their game convincingly on the 10th.
This will be the first season since 2019 where the Blue Jays will be playing the entirety of their games at Rogers Centre and I believe that provides a strong level of momentum for this team. Get your BetMGM account set-up today and bet on the Blue Jays over the Rangers for your BetMGM Canada Welcome Reward.
BetMGM Casino & Poker Also Live
If you like games but sports aren't your thing — BetMGM has you covered. A big part of the gaming conglomerate's expansion into Ontario is not just their sportsbook, but their online casino and poker services. With years of experience in the online casino space, BetMGM is a battle-tested and, more importantly, trustworthy platform. After years of having to rely on gray market casino apps with spotty track records, the people of Ontario will finally have the benefit of playing with an established service that prides itself on transparency. To find out more about BetMGM's casino services click this or one of the banners on this page.
On the Poker side of things, BetMGM has a selection that rivals any other platform. While it's impossible to recreate the ambiance of a high-stakes Vegas Poker Room in an online setting, BetMGM has done its best to make its service as interactive as possible. Players are able to play with a live dealer if they so choose. Moreover, they can pick from a wide selection of options including three card poker, four card poker, Let It Ride, Ultimate Texas Hold'em, and Casino Hold'em.