BetMGM NY Bonus Code: $1,000 Promo NBA All-Star Weekend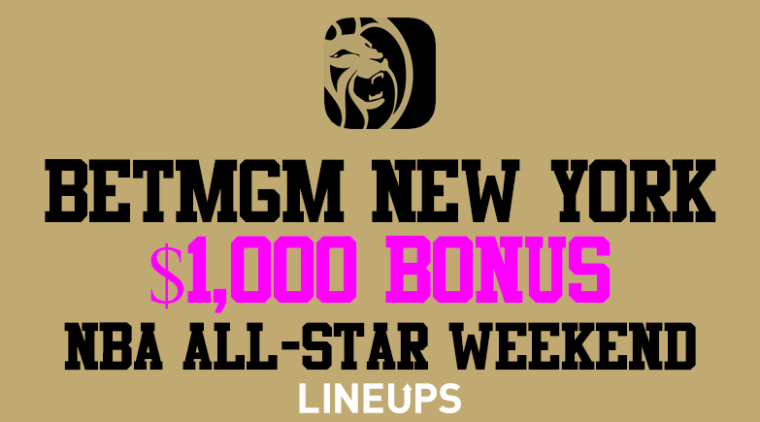 For legal info, promos, reviews, and more, make sure to head over to our BetMGM New York Page! There, you'll find a one stop shop for everything you need to become a more well-informed bettor. The BetMGM Bonus Code NY "LINEUPS" earns you the $1,000 risk-free bet!
BetMGM NY is Here for the NBA All-Star Game!
The Super Bowl may be over, but sports betting in New York is just getting started. With the NBA's All-Star weekend upon us and March Madness right around the corner, there has never been a better time to be a sports fan in New York. As the introduction of sports betting has taken the state by storm, BetMGM has asserted itself as one of New York's top sportsbooks — largely thanks to their new user promos. To find out who's eligible for these promos, where to find them, and how to take advantage of them, make sure to read on.
BetMGM Bonus Code NY: $1,000 Risk-Free Bet Using Code "LINEUPS"
Some like to play it safe, others like to take big swings, while a few like to straddle the line between the two. With BetMGM's new $1,000 risk-free bet promo, bettors at each level of the risk tolerance spectrum can have their cake and eat it too up to $1,000. All you have to do is set up your account by clicking the banner below and completing the requisite steps. Make sure to enter the code "LINEUPS" when prompted so they know we sent you. The registration process is generally straightforward, though please feel free to consult our BetMGM New York Page with any confusion. So long as you are over the age of 21 and located in the state of New York, you will automatically be eligible to start placing risk-free bets. Just because it's risk-free doesn't mean it's reckless, however, and we want to make sure you get the most out of your BetMGM NY Promo.
BetMGM NY Bonus Code Best Bet: Team LeBron -5.5
Truth be told, I'd probably pick Team Durant on the points in this game if he was playing, but without him the chips are stacked way too far in team LeBron's direction. They have shooters at nearly every position from C to PG with Stephen Curry and Nikola Jokic, which matters because the All-Star game tends to come down to shooting at the end. They have two hometown Cavaliers in Darius Garland and Jarrett Allen (and LeBron, of course), which matters in the All-Star game because it creates a sort of direct pressure in a game that otherwise is pretty carefree. Finally, they just have the better roster, with more size and skill across the board.
I do think the duo of LaMelo Ball and Trae Young on Team Durant is going to make for some flashy moments and no doubt Zach Lavine will get a couple of vintage dunks in. But at the end of the day, I'll take LeBron, Giannis, Steph, Luka, and Jokic over Tatum, Gobert, Booker, Embiid, and Wiggins by 10+.
Team LeBron for the 5peat. Cash it with your BetMGM Bonus Code New York.