BetMGM NY Bonus Code: Super Bowl Promos & Odds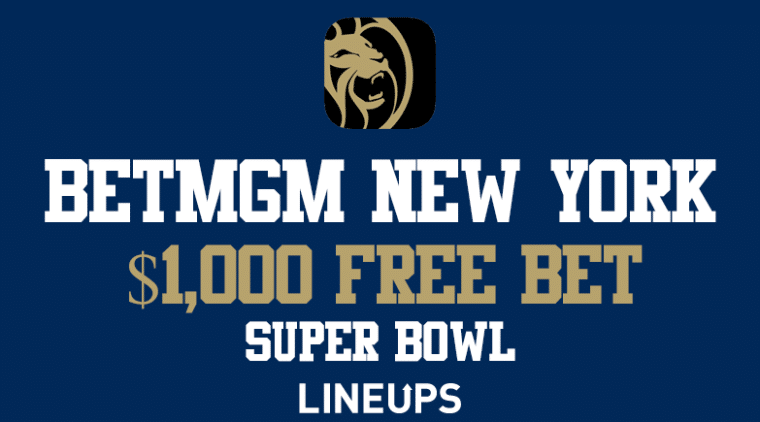 Don't forget to check out our official BetMGM New York page! You'll find the newest promos, legal info, and much more.
BetMGM New York is Here!
After quite a long wait, New York sports betting is here! Legal wagering has brought plenty of different sports betting platforms to the Empire State, and BetMGM New York is one of the most popular. The sportsbook is known for its great interface and app, although the BetMGM promotions are what sets the sportsbook apart. In addition to some specialized promotions such as First TD Scorer Insurance, the signup bonus is a huge draw for BetMGM. Currently, when you register for the sportsbook using the BetMGM Bonus Code NY, you'll start off with a huge risk-free bet. Read on so you know how to take advantage of the promo code and check out some of the Super Bowl bets you can make right now.
BetMGM Bonus Code New York: $1,000 Risk-Free Bet!
With BetMGM New York operating in the Empire State, you can start out with a great signup bonus. When you register using the BetMGM NY Promo Code, you'll be able to make your first $1,000 bet completely risk-free. First, sign up for the platform with the BetMGM NY Bonus Code . Then, deposit into your new account and place your first bet up to $1,000. If your bet doesn't hit you'll get a full refund in the form of a free bet. This welcome promo comes at the perfect time, with the NBA and NHL seasons in full swing and the Super Bowl kicking off soon. Speaking of, read on to learn about some of the Super Bowl odds on the platform.
BetMGM Sportsbook Super Bowl Odds
With that risk-free bet from the BetMGM Promo New York Code, let's look at the odds for the big game. Super Bowl 56 definitely features two teams not everyone was expecting to make it to the championship game. After a successful offseason, with the acquisition of QB Matthew Stafford, the Rams have been scoring some big wins, especially in the postseason. Meanwhile, the Cincinnati Bengals welcomed back their own QB Joe Burrow with welcome arms after a devastating knee injury, and the underdogs have scored some huge upsets since then. Right now, the Bengals are underdogs, with a +4.5 point spread and +165 moneyline odds. Meanwhile, the Rams are sizable favorites with -200 moneyline odds. Additionally, the current point total is 48.5 on BetMGM Sportsbook, and I'm sure many bettors will be hitting the over in hope of an exciting game.
However, as it is every time the Super Bowl rolls around, the prop bets are the big draw. You've got plenty of options when it comes to your Super Bowl 56 prop bets. The first TD scorer is always popular, especially when you consider the number of players involved. Of course, you can wager on major favorites like Rams WR Cooper Kupp and Bengals RB Joe Mixon. Or, if you're feeling especially daring, you can place a bet on longer shots like Bengals RB Samajre Perine at +6600 or no touchdowns at all to be scored at +10000. Plus, you can wager on the Super Bowl MVP of your choice, choosing from big favorites like the starting QBs, RBs, and WRs, and even plenty of defensive players on the board with some major odds. Whatever prop bets you want to make, there's a good chance you'll find them on BetMGM Sportsbook.