BetMGM New York Bonus Code: $1,000 Promo for NFL & NBA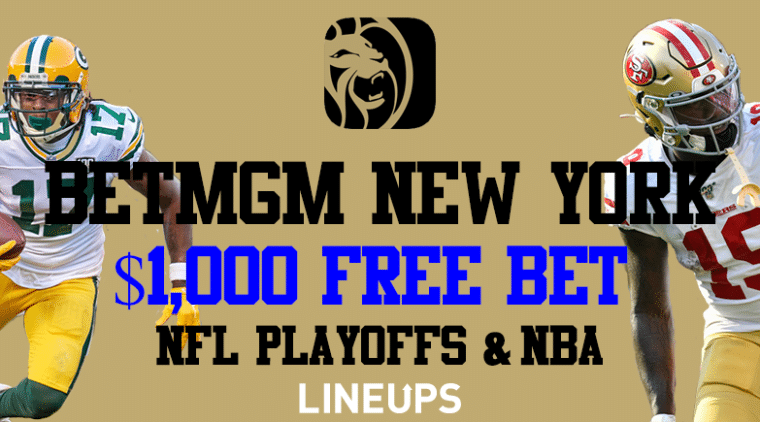 BetMGM has been launched in the state of New York! After waiting around for what likely felt like an eternity, BetMGM is finally operational and legal in the state of New York. For other BetMGM New York, legal, or sportsbook information, click the link here.
BetMGM New York Bonus Code
BetMGM New York is up and running, and we have an exclusive offer for you with the BetMGM NY bonus code "LINEUPS". If you click on any one of the banners then you will be re-directed to the BetMGM New York page through our affiliate link and you can use the BetMGM New York Bonus Code "LINEUPS" to apply the bonus!
Bet MGM New York Promo: Risk Free $1000 Bet
BetMGM New York is live and excited to offer you some of the industry's best first-time user promotions, including a risk-free bet of up to $1000! After launching just a few days ago, BetMGM has wasted absolutely no time becoming a primary sportsbook option for new users in the state of New York whether you are a resident or just a visitor. You can unlock this with the BetMGM bonus code NY "LINEUPS", this grants the huge $1,000 MGM NY promo.
There are a few requirements that you will want to pay attention to. For one, you must be at least 21 years of age and physically in the state of New York when you place the bet. Additionally, you have to make a qualifying deposit into your newly created account. Remember, however much you place on your first bet is the amount that is eligible for the risk-free bet. If you win, you keep the winnings and get to celebrate! If you lose, BetMGM New York Promo will give you up to $1000 in site credit.
Divisional Round Best Bet: Tennessee Titans Moneyline (-180)
Admittedly, this best bet is entirely dependent on the status of Derrick Henry; however, it seems like he is going to play and is near full health. When Henry plays, the Titans are an especially scary team in the AFC. If their 12-5 record is not convincing enough, then I don't know what to tell you. What I do know is this: tackling Derrick Henry when it is 30-something degrees out is about the least ideal situation for an opposing team. And tackling Derrick Henry is certainly not fun. Over the past several years, we have seen the impact of Derrick Henry when it is cold out. He is already an absolute truck, but if you have ever played football, then you know how much more it hurts to hit an absolute truck when it is near freezing outside. The only potential issue for Tennessee is its bottom-tier pass defense. The Titans rank 25th in the NFL in opponent passing yards per game, and with Joe Burrow and Ja'Marr Chase on the other side of the ball, that could spell trouble. Luckily, the Titans are not playing the Buffalo Bills or the Kansas City Chiefs because that could be a field day. There's no doubt that Cincinnati is a tough football team, so this should be a close game, but the Titans have more experience and more power on offense.