BetMGM Louisiana Bonus Code: $1,000 Promo For NBA All-Star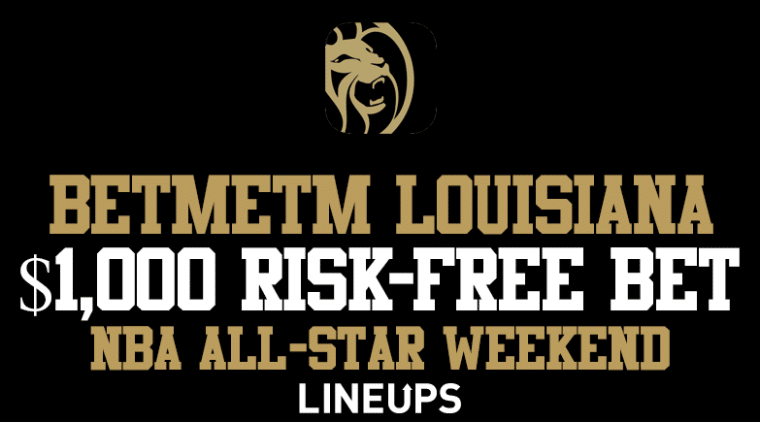 For more information on the latest ongoing promotions, check out our official BetMGM Louisiana review. We have you covered with full step-by-step instructions on the registration process and extensive information on the platform. The best BetMGM Bonus Code Louisiana is "LINEUPS" and earns $1,000 bonus!
BetMGM Louisiana NBA
The Super Bowl was the biggest sports betting weekend in United States history, but we're expecting NBA All-Star Weekend to bring a lot more wagering action. BetMGM Louisiana is one of the best platforms for all of your NBA All-Star betting needs, and it has tons of wagers for each of the big events. Beyond NBA All-Star weekend, BetMGM Louisiana has some of the most competitive odds and unique wagers across all professional, collegiate, and international sports. With the BetMGM Louisiana Bonus Code, you can access a $1,000 risk-free bet when you sign up that can be used on any sport of your choosing. For more information on this amazing sign-up offer, keep reading below.
BetMGM Promo Code Louisiana: $1,000 Risk-Free Bet on NBA All-Star Weekend
When you place sports wagers, you have to understand the possibility that you won't always win your bet. However, with this offer from BetMGM Louisiana, it doesn't matter! With the BetMGM Lousiana Promo Code, you will be refunded the full amount of your wager should you lose your first bet. If you place $1,000 on a losing wager, you will get back $1,000 in site credit that can be placed on other future bets. The BetMGM Promo Code Louisiana can be accessed by anyone who is 21 years of age or older and is located in an approved parish in Louisiana. To access the BetMGM Louisiana Promo, click through the link here or the banner below.
BetMGM Promo Code Louisiana Best Bet: NBA All-Star Weekend
LeBron James to win All-Star MVP: +600
Since the NBA All-Star game switched to this draft format, Team LeBron has dominated with four straight wins. However, LeBron James has only won MVP once over that span. This year, he captains a side that is favored by 5.5 points. I think Team LeBron will win, but at -220 on BetMGM there's not much value in the Moneyline. In addition, Team LeBron would have only covered in two of the past four years. While Kevin Durant is out, I don't like laying the six points there. Instead, I'm looking to LeBron James to win his first NBA All-Star MVP since 2018 and just his second since 2008.
NBA All-Star Weekend is in Cleveland this year, so LeBron James will already be especially motivated to perform in his hometown. With the Lakers not trending towards doing anything special this season, especially with the new Anthony Davis injury, LeBron may not have another opportunity to add silverware to his coffers this season. James will be making highlight-reel passes to Steph Curry, Giannis Antetokounmpo, and DeMar DeRozan while Nikola Jokic and Luka Doncic can set the table for him. There are plenty of talented players on his roster, but I trust James to show up with a big performance in Cleveland. At +600 odds, I love the value here for a flier.