BetMGM Kansas Launch Has Rough Start, But Redeems Itself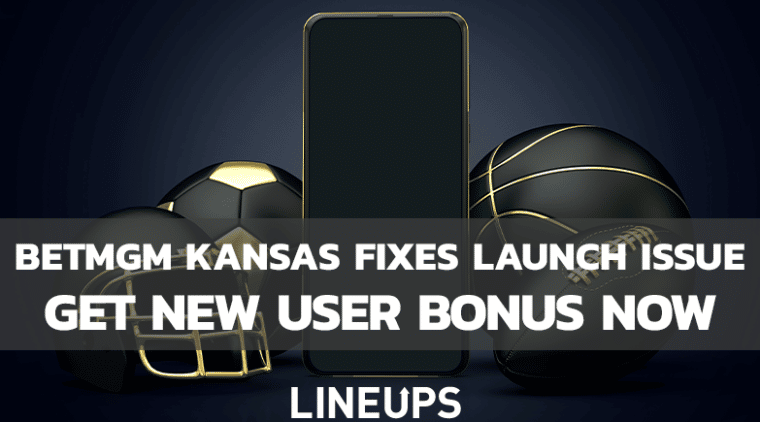 No Bonuses? No Launch? 
Sports betting is now live in Kansas, but not without a hitch as BetMGM's roll out of their Kansas promotion did not go exactly as planned during the long-anticipated Sept. 1 launch. At 12 p.m. local time, the "soft launch" of sports betting in Kansas took place, at which point all users of the state's approved sportsbooks would be able to begin placing bets. 
Several sportsbooks, including BetMGM, provided "pre-launch" offers which essentially encouraged Kansans to sign up for the sportsbook ahead of the Sept. 1 launch date. In return, these new users would be rewarded with $200 in bonus funds in their BetMGM account as soon as the Kansas market launched.  
However, several of these new BetMGM Kansas users took to Twitter shortly after the 12 p.m. launch time to discuss a plethora of issues they were experiencing. One user asked, "Did anyone on here from Kansas register with @BetMGM for the free $200? If so, do you have it yet? My balance says $0 still." Another said, "Mine said I have to make a deposit first…" 
Some other users' apps told them that the launch was actually "tomorrow" (Sept. 2), but the majority of users cited their main concern as the $200 bonus not being available in their account at the noon start time. 
Smooth(er) Sailing
While it is unclear how the BetMGM technology team ultimately fixed the problem, they did. 
At 12:10 p.m. on Thursday, Twitter user @BetKansas wrote, "Off to a great start with the BetMGM app. Used my four free $50 bets to back Serena on Friday at the U.S. Open, the Chiefs next week in their opener, the Astros to win the World Series and a college football parlay for this weekend. Also got WVU +7.5 tonight for $25 risk free." Another user said that around 12:45 p.m. local time, they had all four $50 bets in their BetMGM account. 
Today, it's clear that some people are still experiencing trouble, as one user said they still cannot locate their bonus money. Twitter user @RobertForKansas responded saying, "For me it defaults to the coming soon screen and I have to actually click through to get to the Sportsbook." Perhaps this was the issue all along, but it's unclear.
Users in Kansas can sign up for BetMGM Kansas with no issues now and get up to a $1,000 risk-free bet.
Other BetMGM Kansas News
Now that the pre-launch offer is in the rearview, BetMGM's regularly scheduled programming is back. Their classic $1,000 risk-free bet is now being offered to new users in Kansas who didn't sign up for the pre-launch offer. New users in Kansas that sign up with BetMGM Sportsbook can place their first bet completely risk-free up to $1,000, so if your first bet loses, BetMGM will refund your bet. 
Sept. 1 proved to be a busy day for BetMGM as the operator also announced a partnership with the Kansas City Chiefs that makes the sportsbook an official partner of the football team, just days ahead of the NFL regular season kickoff. The timing coinciding with the Kansas launch may not be coincidental as part of Kansas' sports betting discussions centered around bringing professional sports teams, namely the Chiefs, to Kansas. More on that, here.