BetMGM Inks First Partnership in Texas With Houston Astros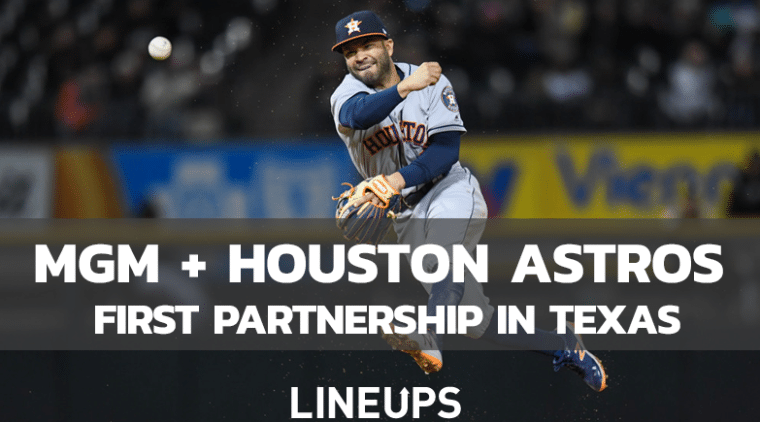 BetMGM is extending its footprint within the professional sports world as they have just announced their partnership with the Houston Astros, making them the official partner of the 2017 World Series champions. This marks BetMGM's sixth partnership with an MLB team; they are also the exclusive partner of the Boston Red Sox, Los Angeles Dodgers, Detroit Tigers, Pittsburgh Pirates, and Washington Nationals. This is their first partnership in Texas. 
"We are looking forward to our partnership with BetMGM," said Giles Kibbe, Senior Vice President, General Counsel for the Astros. "As we continue to strive for new ways to add to the fan experience, this partnership will provide another way for the Astros to engage with our fans."
Other notable partners of BetMGM include the New York Knicks, New York Rangers, New York Jets, Baltimore Ravens, Pittsburgh Steelers, Philadelphia 76ers, among several other professional sports teams.
Details of Partnership
According to a press release from BetMGM, the agreement gives BetMGM prominent signage at Minute Maid Park including a permanent wall sign in the outfield. There will also be promotional advertising behind home plate and a variety of VIP experiences available to BetMGM users. Possible opportunities include throwing out the first pitch, on-field access, and accommodations for away games, among other things. The two parties will also offer special betting promotions to BetMGM customers in neighboring state, Louisiana. 
"The Houston Astros are a monumental addition to our portfolio of strategic partnerships with professional sports teams across the U.S," said Adam Greenblatt, CEO of BetMGM. "The organization's passionate fan base will be key to the growth of BetMGM throughout the South as we look for new ways to engage fans with unique experiences that go beyond the game."
Texas Sports Betting Market
BetMGM is in a unique position as sports betting is not currently legal in Texas, so much of their efforts within the Astros organization will be spent targeting Louisiana residents and sports bettors. Interestingly enough, this is actually the third sport betting operator and professional sports team partnership in Texas. Austin FC is exclusively partnered with PointsBet and Houston Dynamo with Fubo Gaming. These partnerships are likely sports betting operators' way of pushing for sports betting legalization in the Lone Star state. 
Despite the harsh opposition to commercial gambling in Texas, lobbyists have not given up. In fact, casino and resort company Las Vegas Sands spent $20 million in lobbying and marketing efforts to get Texas to legalize casino resorts last year. 
Texas is the second-most populous state in the United States behind California, which also has not yet legalized sports betting, but is much closer than Texas. On the bright side, Beto O'Rourke, the Democratic nominee for Texas governor, announced that he would support sports betting in the Lone Star State if he was elected. He was quoted as saying, "if we were to make legal casino gambling and sports betting in the State of Texas we would be able to bring in billions of dollars more."