BetMGM Illinois Bonus Code: $1,000 Risk-Free Bet For NBA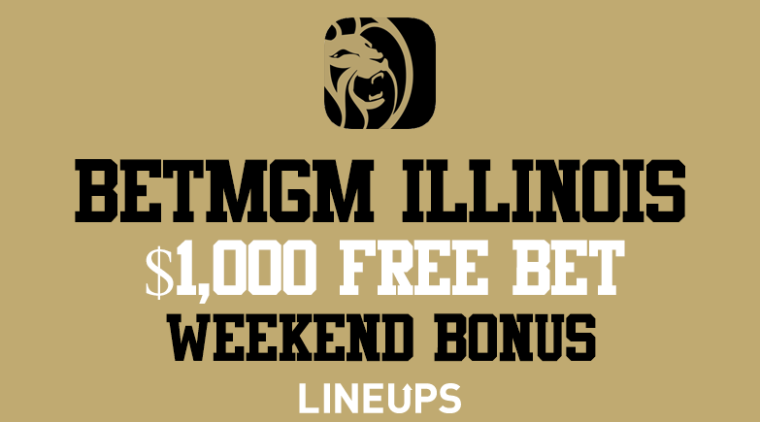 For more information on ongoing promotions, legal updates, and a full detailed review, check out our official BetMGM Illinois page. While we can't change the fact that the Bears just traded away their best player in Khalil Mack, we can help you get set up on one of the best sportsbooks in the industry. Use the bonus code "LINEUPS" for the max new user bonus.
BetMGM is Leading the Market
BetMGM Sportsbook is one of the most popular online sports betting platforms in the industry, and it officially launched in Illinois on March 5, 2022. With the BetMGM Promo Code Illinois "LINEUPS", you can access a $1,000 risk-free bet at sign-up. BetMGM Illinois has you covered with a massive menu of available sports and different markets to wager on, and the BetMGM mobile application consistently receives excellent reviews from its customers. Keep reading to find out how to sign up for a new BetMGM Illinois account today and access the BetMGM Bonus Code Illinois.
BetMGM Illinois Promo: $1,000 Risk-Free Bet
If you are looking to set up a new account with BetMGM Illinois, you should make sure to use the BetMGM Illinois Bonus Code "LINEUPS" to access the best offer available. To access the $1,000 risk-free bet, first click through the link here or in the banner below. Next, you will be asked to provide some basic information to verify your identity. Then, you can provide the BetMGM Illinois Bonus Code "LINEUPS" and lock in your $1,000 risk-free bet. You can get fully registered in a matter of minutes on your desktop computer or mobile device. Click through the banner below to get started today!
BetMGM Illinois NBA Best Bet
Chicago Bulls Moneyline
March Madness is right around the corner with NCAA Conference Tournaments taking place this week, but that doesn't mean we should sleep on professional basketball as a great avenue to placing exciting wagers. This weekend, the Chicago Bulls take on an Eastern Conference rival in the Cleveland Cavaliers as both teams jockey for playoff positioning. For my best bet in this game, I'm taking the Bulls ML.
Darius Garland has been excellent lately, but Jarrett Allen and Caris LeVert remain out, not to mention the absence of Collin Sexton since November. The Bulls don't have a clean bill of health, with Lonzo Ball, Alex Caruso, and Patrick Williams still out, as well as Zach LaVine, Nikola Vucevic, and Ayo Dosunmu day-to-day. Keep an eye on the injury reports before placing any bets in this game.
Assuming LaVine, Vucevic, and Dosunmu are able to play on Saturday, I lean heavily towards the Bulls' ML. Chicago and Cleveland have split their season series this year with one win apiece, but the Bulls were missing their leading scorer and MVP candidate DeMar DeRozan in the first meeting which the Cavs won. When DeRozan returned for the second meeting, the Bulls won 117-104, and that was with Jarrett Allen and without Zach LaVine.
The Cavs have been reeling a bit lately as they've lost six of their last nine games and narrowly escaped against the Pacers with a three-point win. They are also coming off a back-to-back after playing the Heat on Friday. The Bulls recently snapped a five-game losing streak, but they should be out of that funk now with two days of rest before the game against the Cavs. So long as DeRozan is playing, I find it very difficult to fade the Bulls at home.