BetMGM Bonus Code "LINEUPS" For Best College Football Promos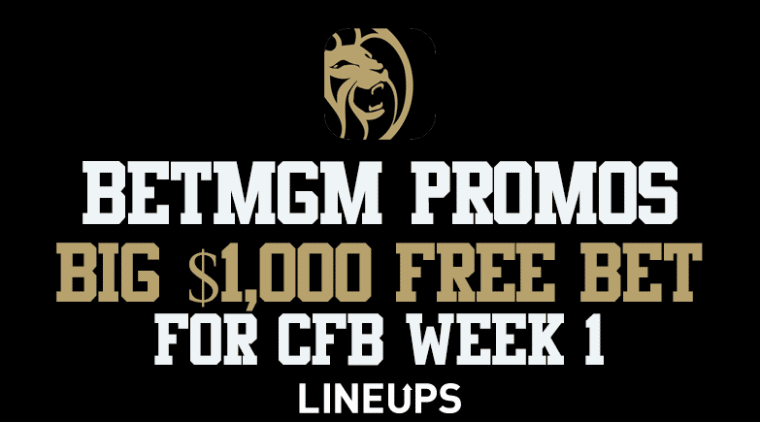 Don't forget to check out our BetMGM Sportsbook Bonus Code page! You'll find additional promo info, frequently asked questions, and much more. The newest BetMGM bonus code is "LINEUPS" and grabs you a $1,000 risk-free bet, find the Best College Football Promo for Week 1 this Saturday! .
BetMGM Bonus Code "LINEUPS" $1,000 Risk-Free Bet on CFB Saturday
College football is here! There are plenty of exciting games on the slate to start the season, making it an ideal time to check out a new online sports betting app. One of the most popular mobile sportsbooks on the market is BetMGM Sportsbook, a platform from MGM Resorts International and Roar Digital. The sports betting site is one of the top names in wagering thanks to its well-designed smartphone app and wide range of different promos.
Speaking of promos, the sports betting platform has one of the best signup promotions in the industry thanks to the BetMGM Sportsbook Bonus Code. When you enter the BetMGM Bonus Code as you sign up, you start out with a $1,000 risk-free bet. Basically, just enter the BetMGM Bonus Code when you sign up and place your very first wager up to $1,000. If this first bet ends up losing, no worries, as you'll get a full refund in the form of a free bet.
Best BetMGM College Football Promos
In addition to the signup promo, BetMGM Sportsbook offers a wide variety of different promotions. Some of these are focused on specific sports leagues, such as the platform's college football promotions. BetMGM Online Sportsbook generally offers a number of different odds boosts on different college sports events, as well as the occasional parlay boost or a risk-free bet. Make sure to keep an eye on the "Promotions" tab throughout the college football season.
Best Bet For BetMGM College Football: Ohio State Buckeyes -16.5
I remember very distinctly the excitement coming from Notre Dame when former defensive coordinator Marcus Freeman got the promotion to head coach. Then the Fiesta Bowl came around and the team blew a multi-score lead, which soured me on the Fighting Irish for a bit. Don't get me wrong, I believe there is plenty of potential on this team with players like tight end Michael Mayer and defensive end Isaiah Foskey. However, an inexperienced head coach and a murky quarterback situation have me fading Notre Dame until further notice. It doesn't help that the Fighting Irish are facing off against one of the teams with the shortest odds to win a championship this season.
It's not a hot take to say that the Ohio State Buckeyes are going to have a great season. The team brought back 14 starters, including QB C.J. Stroud, who is a favorite on many sportsbooks to win the Heisman Trophy this season. Even after losing some receivers to the NFL Draft, the Ohio State receiving corps is loaded, and head coach Ryan Day will continue to get the most out of his quarterback. The hiring of Oklahoma State's Jim Knowles as defensive coordinator should only elevate an already stacked team. While I believe Notre Dame will still have a good season overall, I could see the wheels falling off in this opening matchup. Lay the points with Ohio State in Columbus.