Best Player Prop Picks For Each Conference Championship Game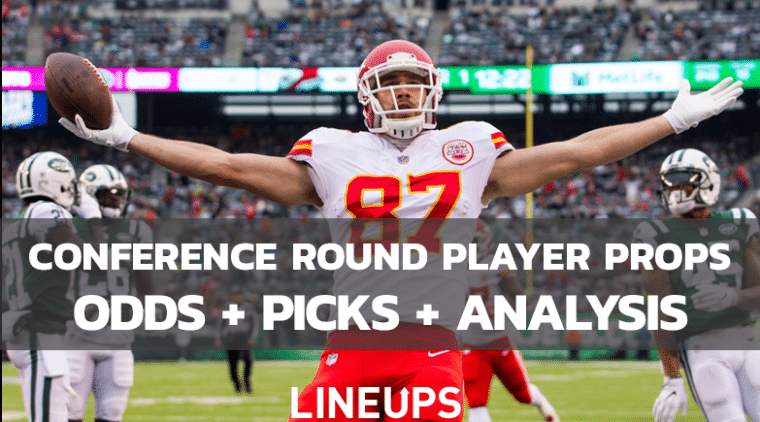 The NFL playoffs are underway, and you can find the most up-to-date odds, lines, and predictions for the Conference Championship Round here. With just one win standing in the way of the Super Bowl for each team this weekend, there's a lot stake for everyone with some skin in the game. Here are the best player props for each game of the Conference Championship Round.
Conference Championship Round Player Props
San Francisco 49ers vs Los Angeles Rams
Elijah Mitchell Over 17.5 Rushing Attempts
The Niners recipe for beating the Rams effectively boils down to two things — assert dominance in the run game and hold the Rams under 30 points. On offense, this means a steady diet of Elijah Mitchell. The last thing San Francisco wants to do here is get into a track meet on turf. Over the Niners 4 game win streak, Mitchell is averaging 21.5 carries a game and has only gotten less than 17 carries twice all season. Even when this team gets down early, like week 18 against the Rams or the Divisional Round against the Packers, they never abandon the run game. I think Kyle Shanahan has lost trust in Jimmy Garoppolo to some degree as evidenced by his decision to run the ball on third and seven in a key spot last weekend in Lambeau. It worked out but no doubt there would be skeptics if it didn't. Overall, this game is going to be ugly divisional matchup, and I like Mitchell to get the cover amidst the ugliness.
Matt Stafford Under 34.5 Passing Attempts
Sean McVey has been pretty clear with his game plan in these playoffs. If the Rams can get the run game going, he's going to keep it on the ground — especially if they get out to an early lead. Whether it be Kupp, OBJ, Akers, or Michel they have too many dynamic offensive pieces to stall, and once they score they're going to dominate the clock by keeping it on the ground. This San Francisco offense has been absent at times this year and Sean McVey knows it. He also knows his quarterback is prone to throwing costly interceptions. Translation: let's get on the board early and not beat ourselves. This is a formula for the under on Stafford's passing attempts, and can even be corroborated by Stafford's numbers in the last two playoff games. When the Rams get a solid lead, McVey gets conservative.
Jimmy Garoppolo Longest Completion Under 36.5 Yards
Rams S Taylor Rapp is coming back in this game, adding an extra layer of protection over the top. I like the matchup between this Rams secondary and a 49ers receiving core that's known more for their physicality than their speed. I think Kittle, Deebo, and Aiyuk will get their fair share of targets but I don't like anything over the top in this game. Garroppolo finished the regular season 9th in passes of 20 plus yards, and 14th in passes of 40 plus yards. I think this line is priced pretty well overall, but because of how the Rams secondary has played in recent weeks, I believe the under is the play.
Cincinnati Bengals vs Kansas City Chiefs
Joe Mixon Over 3.5 Receptions
The one thing you can count on in this game, outside of maybe brilliant quarterback play, is Steve Spagnuolo dialing up consistent pressure against this Bengals offensive line. There's too much film on how to get pressure on Burrow for it not to be a feature of the Chief's defense, and if that's the case Joe Mixon is going to be a huge asset in the receiving game. The Bengals consistently keep Mixon as an outlet receiving option near the line of scrimmage in the event their offensive line gets compromised. As a result, he's caught 23 passes over his last 4 games with 7 of these receptions coming against Kansas City in week 17.The Kansas City defensive line may not be nearly as good as Tennessee's, but their weakness at linebacker proves even more of a reason for Cincinnati to attack the middle with Mixon. You have to go back to December 19th to find a game when Mixon caught less than 4 passes.
Joe Burrow Over 38.5 Pass Attempts
If this Bengals team is going down, they're going down swinging. No matter how many people say this Chiefs defense has improved, they still haven't managed to manufacture any sort of consistent pass-stopping attack. Every time the Chiefs have played a quarterback with an elite pocket presence this season (i.e. Josh Allen, Joe Burrow, and Justin Herbert), they've struggled. Honey Badger has been cleared from concussion protocols which is helpful though I still don't buy the notion that his absence is the sole reason Gabrielle Davis went off for 4 touchdowns — and if it is I like this play even more. The fact is that maybe the one glaring mismatch the Bengals have over the Chiefs in this game is their receiving core over the Chiefs secondary. Ja'Marr Chase can take any one of the Chief's corners in one and one, likely forcing routine doubles. If the Chiefs clamp down on him like they did with Stefon Diggs last weekend, it'll just open up more opportunities for Tee Higgins and Tyler Boyd. Either way, expect lots of dropbacks from Joe Burrow.
Travis Kelce Over 6.5 Receptions
The Bengals have struggled to defend the tight end position all season. Five times they've faced what many would consider to be "elite TE's" — the George Kittles, Mark Andrews, and Travis Kelces of the world. In these games, the Bengals gave up an average of 7.2 receptions and 85 yards to the TE position, and, in 3 out of the 5 games, the TE ended up being their opposition's leading receiver. Travis Kelce is averaging 6.5 receptions in two playoff games and averaged 5.75 receptions over the course of the regular season. The strength of the Bengals defense lies in their ability to slow the run rather than stop the pass. Opposing offenses threw more against Cincinnati's defense than they did against all but 4 other defenses this season. This means more dropbacks for Patrick Mahomes which also means more receiving opportunities for Kelce. In a game that'll likely be face paced and high scoring, these opportunities play perfectly to the over.