Bally Casino Enters Ontario Market, No Sportsbook Yet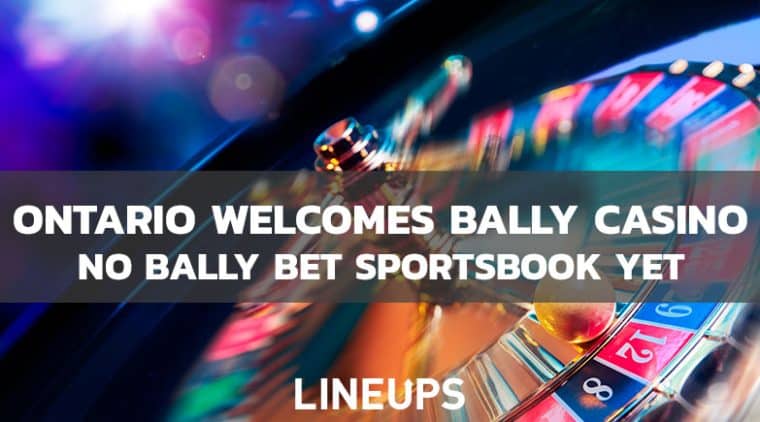 The Ontario betting market launched on April 4th, 2022. With the rollout of legal wagering, anyone in the province within the legal betting age (19 years of age or older) can engage in both online sports betting and online casino gaming. Since its launch, the Ontario wagering market has been very successful, with even more big names such as DraftKings and FanDuel expanding into the area with both sports betting apps and iGaming platforms. Well, the province isn't done welcoming new platforms, as seen with the recent move by Ballys. Let's take a look at how Ontario just added a new online casino platform and might gain a new online sportsbook in the future.
Bally Casino Coming To Ontario
Bally Bet is officially coming to Ontario! According to Covers.com, it was just announced by iGaming Ontario that the popular gambling brand is now a fully licensed betting operator in the province. The online casino is one of the most popular out there, with fans praising its speedy interface and large collection of casino games. As you'd expect, the online casino app offers mobile table games such as baccarat, blackjack, and three card poker, as well as bingo and slingo. There are also hundreds of slots available with Bally Casino, with some of the top options being Triple Gold, Crystal Mirror, Path of Destiny, and 777 Strike.
Bally Bet Sportsbook Not Available In Ontario…Yet
While Bally Casino is now ready to roll in Ontario, the same can't be said for the platform's online sports betting offerings. Bally Bet Sportsbook is currently available in a number of different U.S. markets, such as Arizona, New York, Colorado, Indiana, Virginia, and Iowa. However, it hasn't been revealed if the online betting site will be following Bally Casino to Ontario quite yet. So far, no word has been given on why Bally Bet Sportsbook isn't planning on an Ontario expansion.
It will be interesting to see if this changes in the near future, especially considering the popularity of professional sports (and sports wagering) in the area. With the Toronto Maple Leafs, Toronto Blue Jays, and Toronto Raptors all taking bets on other sportsbooks, don't be surprised if Bally Bet Sportsbook gets in on the action sooner rather than later.
Bally Casino, Sportsbook Will See Some Major Competition
Since legal sports betting and iGaming have been around in Ontario for a few months now, the area has become home to some of the biggest names in online gambling. The top sports betting apps have all entered the Ontario market, such as DraftKings Sportsbook, FanDuel Sportsbook, BetMGM Sportsbook, and Caesars Sportsbook, with each also offering an online casino gaming platform in the area. The casino market is especially crowded, with tons of major players involved. Golden Nugget Casino, WynnBET Casino, Bet365 Casino, and BetRivers Casino have all expanded into Ontario as well, adding to a growing list of online casino operators. However, with the established Ballys branding and years of experience, Bally Casino (and possibly Bally Bet Sportsbook) will be able to hold its own in Ontario.