Avalanche Fight For Stanley Cup While Sportsbooks Fight The Betting Surge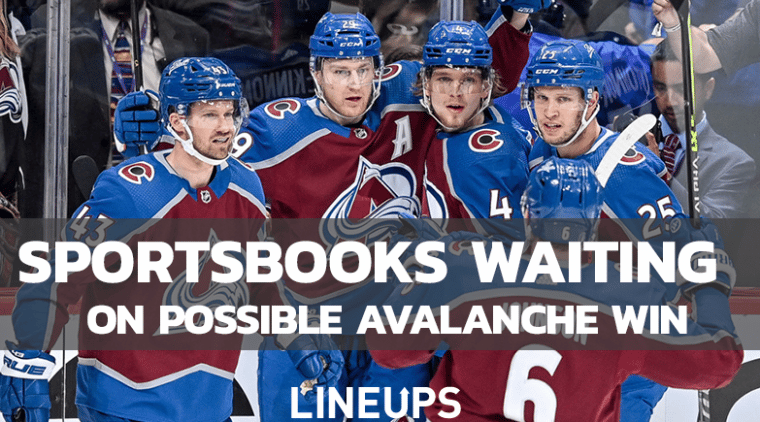 Spike In Numbers
The Colorado Avalanche have found themselves in the Stanley Cup Finals for the third time in program history as they look to keep their Stanley Cup win record clean. Of all the teams that have made it to the Stanley Cup, they are the only one with a perfect record.
While this is grounds for excitement in Colorado, sportsbooks are having a hard time keeping up with the craze. In April of 2022, Coloradans bet a record $26 million on hockey alone. That's compared to the $10.6 million that was bet in April 2021 on professional hockey games. But the records don't stop there. This is also the first time a team from a newly legalized state will compete for a U.S. championship in one of the big four sports. 
What's unique about this year's betting trends is that although the state is home to the possible champion, historically, betting on baseball and basketball during this time always cut into hockey betting. Except this year, in comparison to this time last year, neither baseball or basketball betting so much as doubled. Meanwhile betting on professional hockey is up 145%. Even during the NCAA March Madness tournament, betting on college basketball in Colorado in March only accounted for 19.2% of the handle. 
Operators React
Still, the 39 licensed operators in Colorado fear for their suffering as this influx has made the Avalanche a large liability for Colorado sportsbooks. Jay Korneger, lead operator at SuperBook, said "as an operator, we usually need the teams playing the regional team. Avs winning the Cup isn't our best scenario in Colorado."
The lead trader at DraftKings Johnny Avello, concurs with Korneger – "If you took Colorado out of the mix, we would be a winner. A good portion of that loss would be from the state of Colorado."
66% of BetRivers' handle is attributed to the Avalanche who are currently a heavy -195 favorite heading into game 1. In fact, they have been heavy favorites all year long, having never surpassed +550 to win the Stanley Cup this season. The Avalanche now sit at -175 to win it all and the Lightning at +150. 
Colorado Sports Betting History
Colorado lawmakers passed a sports betting bill in November 2019 and went on to formally launch the market in May of 2020. They have 39 licensed operators in the state, all partnered with one of the state's several dozen casinos, per legislative requirements. From big names like DraftKings and Caesars to smaller books like SuperBook, Colorado has had a tremendous first year. In just the first 18 months, Colorado sports books handled over $5 billion in bets. 
However, they only took $6.6 million in tax revenue in their first year despite imposing a 10% tax rate. This is because the state initially allowed operators to write off the cost of bonuses and promotions which in turn only left the state collecting roughly 4% of the total handle for the year. Lawmakers recently passed House Bill 1402, which will gradually phase out these tax write-offs and hopefully restore meaningful tax revenue to Colorado. 
The sports betting market in Colorado is overseen and regulated by Colorado Division of Gaming's Specialized Business Group.