Auston Matthews Partners With Canadian Sportsbook Bet99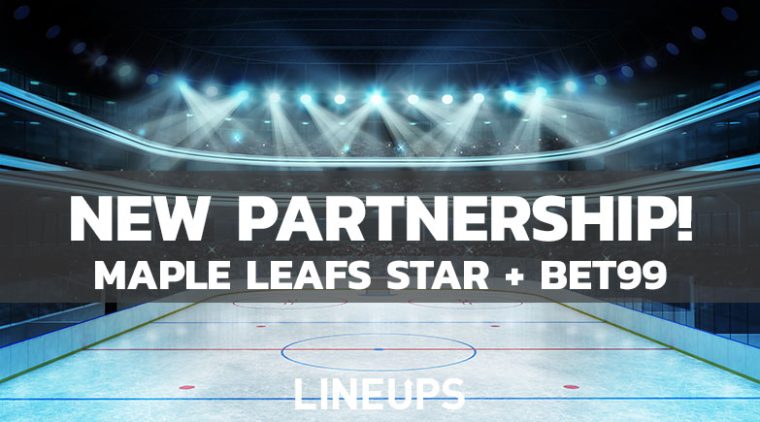 If you've been keeping an eye on the development of sports wagering, sportsbook partnerships are nothing new. Plenty of pro teams have struck official partnerships with popular sportsbooks, as seen with the Colorado Avalanche partnering with PointsBet. Interestingly, some of these partnerships have included actual physical sportsbooks inside of pro stadiums. And let's not forget that Caesars Sportsbook has the official naming rights to the SuperDome in New Orleans. Plus, these sportsbooks have teamed up with numerous former athletes as brand ambassadors, as seen with Drew Brees and PointsBet and the Manning family with Caesars. However, we don't quite see currently playing athletes teaming up with sports betting companies as often, but some recent news might be the start of more. Here's how one of the top NHL athletes is now a sports wagering partner.
Auston Matthews Teams Up With Bet99
Until this week, no currently active NHL partner has partnered with a sports betting operator. Well, times are changing as Toronto Maple Leafs star center Auston Matthews has officially partnered with Canadian gray sportsbook Bet99. SportsHandle reported that the deal is likely around three years long with a seven-figure total. Interestingly, Bet99 can't currently take any wagers in the province of Ontario. However, the Matthews partnership is instead focused on the free-to-play website offerings from Bet99.net. As the first major partnership between a sports betting site and an active NHL star, it will be interesting to see not only which athletes and sportsbooks team up in the future, but what those deals will look like when it comes to numbers. We'll likely have a better understanding closer to the launch of Ontario sports betting, Speaking of which…
Ontario Sports Betting Is Coming Soon!
Residents of Ontario won't have to wait too much longer to place wagers. Ontario iGaming and sports wagering are looking to launch on April 4th, and there's a good chance Bet99 will attempt to file for a license in the area. One way or another, you can expect plenty of different betting platforms to get rolling in the area once sports betting is officially given the green light. DraftKings Ontario, FanDuel Ontario, BetMGM Ontario, and numerous others should see a full rollout sooner rather than later.
Matthews Hoping For A Cup Win
It's not too surprising that Auston Matthews was chosen as the star for this Bet99 partnership. The center has been putting up numbers for quite some time now, and already has 33 goals on this season, second only to Leon Draisatil of the Edmonton Oilers. At only 24 years old, Matthews is the ideal face for the Bet99 partnership as he looks to lead the Toronto Maple Leafs to a much-anticipated Stanley Cup win. While the Maple Leafs have won the Cup an astonishing 13 times, the team has yet to nab a championship since 1967. Making a return to the Finals is easier said than done this season, considering the team shares the Atlantic Division with Cup hopefuls in the Tampa Bay Lightning and Florida Panthers.