Arkansas Sports Betting Launch Likely Pushed Off to March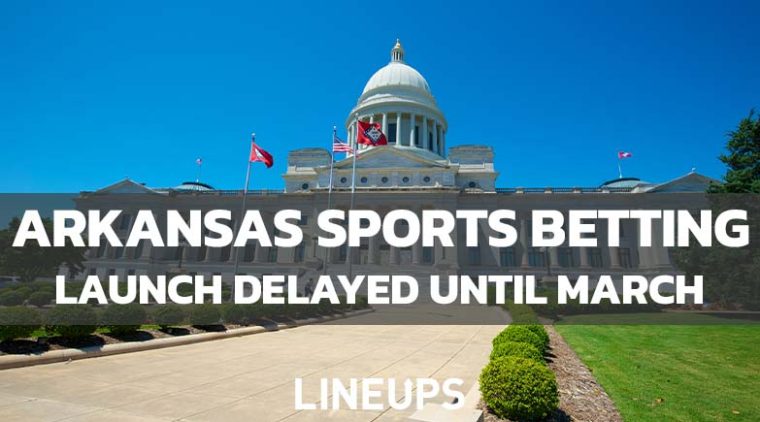 Arkansas residents who were hopeful of mobile sports betting launch in time for the Super Bowl will be disappointed by the latest news in the state. The Arkansas Legislative Council was scheduled to discuss mobile sports betting regulations on January 28. Still, the discussion was delayed at the last minute, and now March Madness seems like a more viable target for the eventual launch. Arkansas first launched retail sports betting in July 2019, but mobile won't be ready to launch for a bit longer.
Saracen Casino Resort Comments on the Delay
Saracen Casino Resort is the first purpose-built casino in Arkansas and one of the most prominent gaming destinations in the state. Rather than partnering with a significant national sportsbook like many other casinos have done, Saracen is launching its own Bet Saracen app to operate in Arkansas when mobile sports wagering becomes available.
Carlton Saffa, the chief marketing officer at Saracen Casino Resort, spoke to his disappointment regarding the delay, saying, "we would've loved to have been able to book Super Bowl bets on the Bet Saracen app. Saffa said he's not losing any sleep over it, and he believes Arkansans will be able to place mobile sports bets using the platform in late February or early March.
Operators Still Pushing for Less Revenue Share
One of the significant issues that has arisen in Arkansas in regards to mobile sports betting is the proposed 51% revenue-sharing model. This prospect has national sportsbook operators less enthusiastic about the new market. Saffra has stated that operators were happy to pay the 51% tax rate in New York, so it shouldn't be an issue in Arkansas. Saffra also described that the unanimous vote out of commission makes the current policy a no-brainer. However, national operators will still be pushing to change the regulations as long as possible.
Pressure Mounts as Neighbors Launch Mobile Wagering
Arkansas has been placing a greater emphasis on working towards launching mobile sports betting as its neighbors have established their own markets. Tennessee launched mobile sports betting on November 1, 2020, while Louisiana launched late last month. Missouri is also working towards legalization in the near future. With those nearby options, Arkansas is facing tremendous pressure to ensure its in-state residents keep their spending in-state to boost tax revenue.
New Timeline for Arkansas Sports Betting
The next scheduled meeting for the Arkansas Legislative Council is on March 18, and the Council will not be considering the amended rules proposed by the Arkansas Racing Commission until then. The Arkansas Racing Commission first approved the amended regulations by a vote of 7-0 in December, but those rules are now being challenged. The Commission has stated it needs additional time to address several questions raised by "legislators and others," the implication being that it will contemplate modifying the 51% tax rate.
With the prospect of national operators avoiding the Arkansas market, there could be enough incentive for this rule to change to a more competitive market. Saffa has expressed his hope that Bet Saracen, along with other platforms, will be able to launch in time for NCAA Basketball's March Madness tournament. Still, it would require Arkansas' legislative session to give the go-ahead before the Legislative Council's March 18 meeting. We'll have you covered with the latest news out of Arkansas as soon as we have it, as we hope for full-scale mobile sports betting launch in the coming months.