Arizona Sports Betting Operators Set Revenue Record in May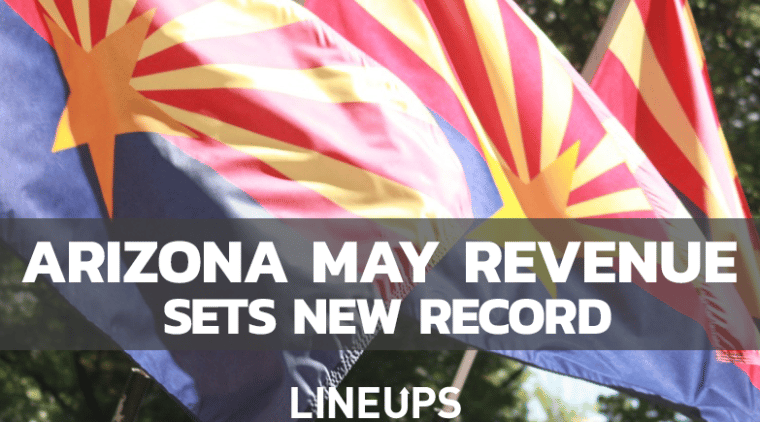 Operators Win Big
According to a report from the Arizona Department of Gaming, the month of May proved to be Arizona operators' biggest month in sports wagering since its launch in September, generating gross revenue of $55 million and a win rate of roughly 12%. This topped the operators' previous record of $50.2 million, which they generated just two months after their initial launch, in November. It also blew past the April revenue ($29.2 million) by 88.6%.
FanDuel in particular had its most impressive month to date, totalling $24 million in revenue off of a cool 16.1% hold on the month. This took FanDuel past the $100 million mark in Arizona, and it is the first operator in the state to do so. FanDuel took in $148.7 million in wagers followed by DraftKings with $141 million and BetMGM with $84.2 million; the three operators have led the handle in the state every single month since its launch. These two also boasted high hold rates of 10.1% and 11.9%, respectively in May. 
This trio also dished out the majority of the month's promotional credits, which totaled $13.8 million. $11.7 million was thanks to FanDuel, DraftKings, and BetMGM, though majorly BetMGM, who offered over $5 million in promotions. 
Other sportsbooks of note for the month were Caesars and Barstool. Caesars online sportsbook tallied roughly $3.5 million in revenue for the month on a 7.3% hold but their retail sportsbook did not fare as well. The brick-and-mortar sportsbook took in $940,588.16 in wagers and paid out almost $1.03 million in winnings, generating a near-$89,000 loss. This was the retail operators' first monthly loss. In other news, Barstool passed $10-million in all time gross revenue after a $14.6 million handle in May sent them home with about $880,000. 
Sports Betting Outlook in The U.S. Right Now
What makes these big numbers in Arizona so interesting is that the month of May also posted the lowest handle since its September launch at just $461.5 million. As a matter of fact, the handle was down over the entire country for the month of May. This downturn doesn't come as a huge shock given the slower spring schedule leading states to handle just $6.7 billion total, compared to April's $7.5 billion. 
2022 in general has had some surprises despite breaking several records as well. The industry-standardized win rate hovers right around 7%, which Arizona obviously exceeded in May. However, states like New Jersey and Nevada have brought the national win rate average down to 6.7% after boasting year-to-date win rates of 5.3% and 4.4%, respectively. May looked promising for a turn around though – the national hold on gross revenue grew to 9% and the adjusted revenue win rate now sits at around 8.1% which is the ninth-highest monthly win rate since the PAPSA repeal in 2018. 
On this current trajectory, it should only continue to grow as the year goes on. Soon the NFL season will be underway followed by the MLB playoffs and World Series, followed by more football. Arizona was just getting comfortable with sports betting in the state when the NFL season and MLB playoffs started last year, so there should be a jump in numbers coming up.