Arizona Sports Betting Handle Pushes Past $4 Billion All-Time in April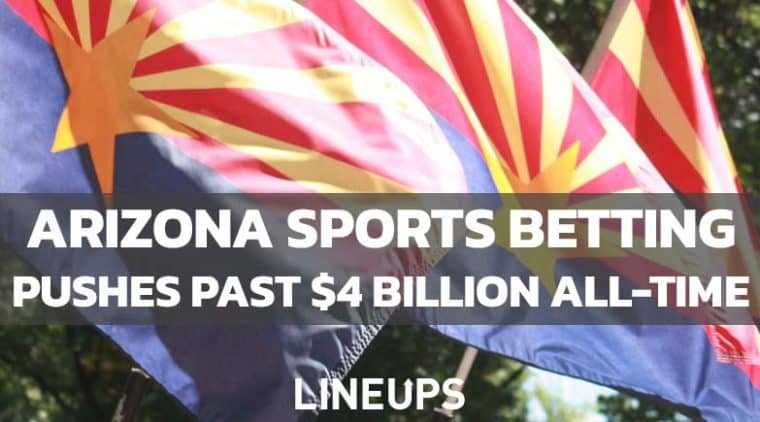 On Tuesday, the Arizona Department of Gaming released a report detailing the state's sports betting results for April. Sportsbooks in the Copper State handled nearly $512.9 million in total wagers in April, a 25.8% decrease from $691 million in March, the state's record. However, Arizona has moved past the $4 million mark in its all-time sports betting handle, becoming the 11th state to do so.
Arizona Cementing itself as a Top Market
Arizona is less than a year into its life as a legal sports betting market and has established itself as one of the top markets in the country. Every other state has reported its sports betting numbers for April, and Arizona came in sixth overall handle for the month. Arizona has the sixth-largest population of states with legal sports wagering, so it should hang around that range.
Top 10 U.S. states by sports betting handle, April 2022:

1. New York $1.4 BILLION
2. New Jersey: $927 million
3. Illinois: $839 mil
4. Nevada: $583 mil
5. Pennsylvania: $573 mil
6. Arizona: $513 mil
7. VA: $400 mil
8. Michigan: $396 mil
9. CO: $392 mil
10. Indiana: $360 mil

— Ben Fawkes (@BFawkes22) July 5, 2022
Revenue Stays Steady
Arizona operators took in $29.2 million in adjusted gross sports betting revenue in April, which was a steep 21.5% decrease from $37.2 million in March. That revenue came from a 5.7% win rate, over one-third of a percentage point higher than March's. The hold rate in the state has been under 6% each of the last three months.
Operators deducted $12.7 million in promotions, leading to taxable revenue of $16.5 million. The state has a tax rate of 8% on retail wagers and 10% on mobile bets. That resulted in about $1.6 million in taxes in April, down from $1.86 million in March. Arizona has collected over $6.1 million in taxes for the year.
Since launching in September 2021, Arizona sportsbooks have accounted for $292.7 million in revenue, with an overall handle of about $4 billion, representing an average hold rate of about 7.3%. The state has also collected about $12 million in taxes since its launch.
DraftKings Leads Market
In April, DraftKings led the Arizona market with a handle of $155.95 million, representing 30.4% of the market. FanDuel came in just behind with $149.83 million in total wagers (29.2%). Those two sportsbooks combined for over $300 million in wagers and almost 60% of the total market.
However, FanDuel was much more profitable, with $16.18 million in revenue on a 10.8% hold rate compared to $1.51 million for DraftKings on a 0.97% hold rate. FanDuel's $12.3 million adjusted revenue was the highest for any operator in a single month since launch, accounting for almost 75% of the state's total tax receipts.
BetMGM was the only other operator with a six-figure handle at $100.61 million (19.6% market share) and had over $7.7 million in gross revenue on a 7.7% hold rate. However, BetMGM totaled almost $5.1 million in promotional spending, and nearly 76% of its gross income in 2022 has gone untaxed with its heavy promotional outlay.
Caesars' market share plummeted in April as it handled $62.3 million in total wagers, a decrease of 34.6% from March, and had just $1.7 million in gross revenue, an all-time monthly low since launch for the operator, on a 2.7% hold rate, another low water mark.
APRIL #SportsBetting numbers for #Arizona via DoG, a 🧵. Mobile Han/GGR/WR by operator (1/6)@BetMGM $100.61M/$7.75M/7.7%@CaesarsSports $62.31M/$1.69M/2.71%@TS_Sportsbook $505.1K/$66.5K/13.16%

5/x #GamblingTwitter

— Chris Altruda (@AlTruda73) July 5, 2022
National Results for April Established
Arizona was the last state to report its handle and revenue for April, and we now know the full-scale results for the industry. Nationwide, sports betting operators accumulated under $7.5 billion, a 19.1% month-over-month decline but more than twice the total of $3.7 billion in April 2021. One year ago, there were 20 states with legal sports betting, and now there are 26.
April saw sportsbooks top the industry standard of a 7% win rate for the first time in 2022, but barely at 7.05% compared to 6.5% in March. Operators claimed over $528 million in gross revenue, adjusted to $452 million after deductions. That resulted in taxes of more than $110.5 million across the country, and half of that total came from New York's $53.1 million.