Arizona Cardinals vs. Los Angeles Rams Player Props (1/17/22)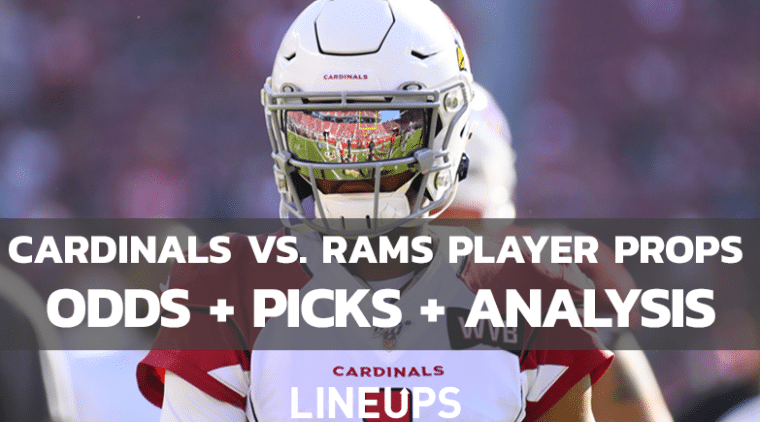 The Cardinals and Rams face off for their rubber match in the first-ever Monday Night Football Wild Card game. Both teams have had very successful seasons, while Matthew Stafford and Kyler Murray are looking for their first-career playoff wins this week. You can check out our betting previews and matchup guides for more information on the game, and in this article, I'll present what I believe to be the best values in player props. You can use the player prop search tool below to find the best odds on props from this Cardinals vs. Rams game.
Arizona Cardinals Vs. Los Angeles Rams Player Prop Search Tool
Kyler Murray Over 34.5 Passing Attempts
As of Friday, James Conner still hasn't practiced, while Chase Edmonds remains limited. That means the Cardinals could need to throw the ball more often on Monday, something they have done much more recently. Kyler Murray is averaging 42 passing attempts per game over his last five games, which I attribute to the Cardinals' defense facing some regression as of late. That stretch includes 49 passing attempts against the Rams earlier this year. The Rams are allowing just 103.2 rushing yards per game, the sixth-fewest in the league, so I'd expect a pass-heavy game plan from Arizona even if Conner and Edmonds were healthy. Even without DeAndre Hopkins, I expect a high-volume passing game from Murray.
Cooper Kupp Over 106.5 Receiving Yards
I could go on and on about Cooper Kupp's accomplishments this season as just the fourth triple crown winner of all time (receptions, receiving yards, and touchdowns). Still, I'll focus on his impressive receiving production regarding his player prop value. Kupp has averaged 114.5 receiving yards per game this season, and he's gone over this line of 106.5 yards in 11 of his 17 games and five of his last six. That recent stretch includes a game with 129 receiving yards against the Cardinals. Arizona's pass defense was always a bit overrated – they're starting fourth-round rookie cornerback Marco Wilson – and an elite pass-rush masked their secondary deficiencies. With that pass-rush not as effective in recent weeks, receivers have recently feasted against the Cardinals. Kupp is the next in line in this playoff game.
Kyler Murray Over 37.5 Rushing Yards
Without DeAndre Hopkins in the lineup, Murray has resumed some of his typical rushing workload that wasn't as prevalent early in the season. Outside of an outlier game with three rushing yards against the Lions, Murray averages 54.6 rushing yards per game over his last five games. That includes 61 rushing yards against the Rams after 39 rushing yards against them in their first matchup. With Von Miller more comfortable in LA and Aaron Donald still at the peak of his All-Pro powers, the Cardinals could have a tough time keeping the pocket clean for Murray. That would lead to him taking off and running more often, and I'll bet on the recent trends to continue for his rushing production, especially with Conner and Edmonds both injured.
Sony Michel Over 56.5 Rushing Yards
As exciting as it is to have Cam Akers back in the Rams' lineup, it's hard to imagine them overloading him with work in just his second game back from an Achilles tear six months ago when Sony Michel is a competent runner. Michel is averaging 83.8 rushing yards per game over his last five games and recently had a stretch with 74+ rushing yards in five straight games before facing a stout San Francisco run defense last week – he has held to 2 YPC in that game. The Cardinals have allowed 114.8 rushing yards per game, ranking 20th in the NFL, and Michel had 79 rushing yards against them just a few weeks ago. There shouldn't be much standing in the way of Michel having solid production this week.
NFL Odds Corner
Super Bowl 56 Odds
NFL Divisional Odds
NFL MVP Odds
NFL Win Totals
NFL Playoff Odds
NFL OROY Odds
NFL DROY Odds
NFL DPOY Odds
NFL OPOY Odds
NFL CPOY Odds