Arbitration Appears Inevitable in Flutter and Fox's FanDuel Valuation Dispute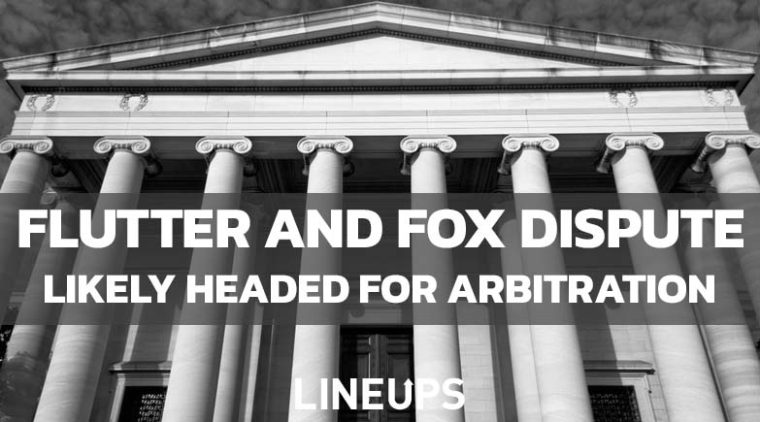 Yesterday, I wrote about Flutter's 2021 earnings presentation as FanDuel reported $1.9 billion in 2021 earnings, far out-pacing its next-closest competitor in DraftKings at $1.3 billion. As FanDuel's market share continues to grow in the expanding United States sports betting industry, the company has found a sustainable formula that will allow it to be a longstanding power in the space. Fox attempted to purchase an 18.6% stake in FanDuel last year, but the ensuing complications have continued into 2022.
History of the FanDuel Lawsuit
On April 6, 2021, Fox filed a lawsuit against Flutter to secure an option to buy into FanDuel Group at the same price Flutter paid in December 2020. The case was filed in New York's Judicial Arbitration and Mediation Services (JAMS). Fox requested to purchase an 18.6% state in FanDuel at an $11.2 billion valuation, the same value Flutter acquired a 37.2% stake from FastBall. However, Flutter was resistant to accept this value given the rapid growth of FanDuel's valuation over the past year.
Changing Financial Factors
The value proposition of FanDuel isn't the same as it was twelve months ago, as the market has shifted dramatically. Sharp concerns over the lack of profitability in the sports betting industry have led to Flutter's stock falling by about 40% over the past eleven months on the London Stock Exchange, impacting the company's valuation.
However, FanDuel has grown in value over that time. Robert Fishman, an analyst with MoffetNathanson, calculated a $14 billion valuation for FanDuel, which is an increase of $11.2 billion, the valuation when Flutter acquired its stake. According to Yahoo Finance, DraftKings, FanDuel's closest competitor, currently has a market cap of $9.56 billion.
One of the other notable factors in this situation is the strategy of Fox with FanDuel as an asset. One of Fox's competitors, NBC, has expanded its integration of betting odds through a multi-year partnership with PointsBet. Fox would hope to leverage FanDuel similarly with live odds on broadcasts and marketing opportunities across the family of Fox networks. Flutter knows how valuable FanDuel would be as a marketing asset for the broadcast network.
Murky Future for FOX Bet
Fox currently has its own sports betting brand in FOX Bet, but it hasn't been nearly as successful as the heavy-hitters in the sports betting space. According to the estimated market share of sports betting gross gaming revenues in 2021, FanDuel has a nationwide share of around 36%, while FOX Bet is in the low single digits. FanDuel, DraftKings, and BetMGM currently make up 75% of the market, and it's proven difficult for any new competitors to infringe on that dominant market share at the top.
FOX Bet hasn't yet launched in the New York market, which is booming following its January 8 launch. It appears highly likely that Fox would shutter FOX Bet shortly after establishing the partnership with Flutter. However, before that can happen, Fox must resolve the issue of negotiating the value of FanDuel as part of its acquisition option. FanDuel would serve as a more lucrative asset in the sports betting space for Fox than its sportsbook.
Arbitration Seems Inevitable
Flutter CEO Peter Jackson told financial analysts during the 2021 earnings presentation that his company is "very comfortable going to arbitration" as he believes they took the proper stance in delaying the process with Fox. Flutter CFO Jonathan Hill added that they "recognize the value of the FanDuel asset" and "any deal that might get done with Fox will have to recognize that." Hill concurred with Jackson that they are very comfortable with the prospect of arbitration.
When an arbitration case is presented before JAMS, it will typically take two to three months to resolve, meaning a final decision could be achieved by August. Fox will undoubtedly hope to resolve the situation in time for the 2022-23 NFL season. In the meantime, Flutter will continue to enjoy FanDuel's 40+% market share in nine of twelve states where it currently operates while Fox looks for ways to close the deal on its acquisition.