Applications For Maryland Sports Betting Online Licenses Are Now Available!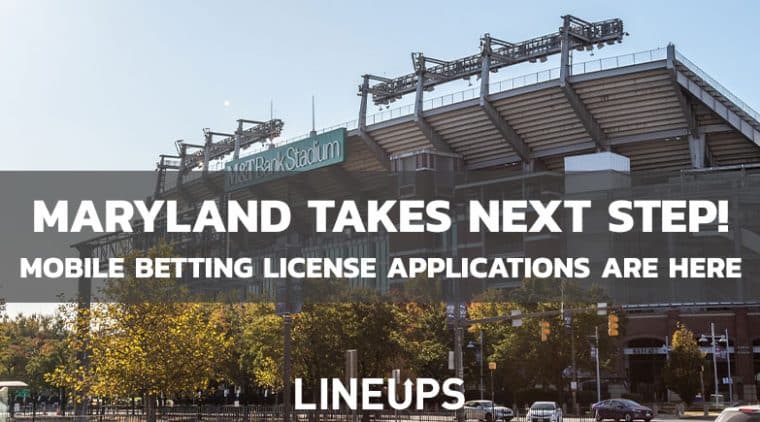 Maryland sports betting is coming soon directly to your smartphone! Sports fans have waited eagerly for any news on the launch of mobile sports betting in the area, and it looks as though the next big step has been taken. Applications are now fully available for anyone looking to get a sports betting license once legal betting is fully available online.
Fans in the area are hoping this means they can place bets on the Baltimore Ravens and Washington Commanders sooner rather than later. Let's check out what to expect with Maryland betting applications now ready to roll.
Maryland Sports Betting Application Process Available
The wheels are once again turning for Maryland mobile sports betting! The application process is now available in the state, with 60 online licenses and 30 retail sports betting licenses available.
The Sports Wagering Application Review Commission will begin confirming these applications after 45 days of availability, with a full sports betting application deadline of October 21.
The entire process has been delayed for months now, so having the license applications available is a great sign for the future of Maryland sports wagering. While there were numerous factors involved, the Sports Wagering Application Review Commission's desire for diversity studies and regulations briefly halted the process.
With application requirements determined, the license applications are now fully available in the area as the state eagerly anticipated full availability of legal sports betting.
Maryland regulators started accepting online sportsbook license applications today, the next key step toward a mobile sports betting launch; no firm launch timeline available yet, but this puts MD on track for a go-live date (sometime) before the upcoming Super Bowl

— Ryan Butler (@ButlerBets) September 6, 2022
When Will Mobile Maryland Sports Betting Start?
Now begins the anticipation for the launch of Maryland's sports betting market. There were hopes that online betting would be available in time for the 2022 NFL season, which kicks off on September 8th, 2022.
However, while it's not impossible that mobile sports betting will be available before the end of the pro football year, plenty will have to go right for Maryland sports bettors to place wagers right from their phones this NFL season.
However, Governor Larry Hogan is determined to get sports wagering up and running in his state. Hogan emphasized in a letter that he is looking to make 17 sports betting applications a top priority for companies included in the retail betting law.
Hogan had done something similar in December 2021 with the launch of physical sportsbooks to expedite the process. There are hopes that this will light a fire under the rollout of Maryland online sports betting, which would be a big boost as the NFL season is definitely the busiest time of year for placing bets.
This basically means SWARC can finally begin accepting Maryland online sports betting license applications this week.

An online sports betting launch is still expected by early 2023 or by the Super Bowl. https://t.co/VEkpsShtPJ

— RLinnehanXL (@RLinnehanXl) September 6, 2022
Can I Bet in Maryland in the Meantime?
Although mobile sports wagering is unavailable in the state of Maryland, you can still place legal bets. Retail sports betting has been available in Maryland since December of 2021. There are plenty of different retail sportsbooks located throughout the state, such as at Horseshoe Casino in Baltimore, MGM National Harbor at Forest Heights, Ocean Downs Casino in Worcester County, and Hollywood Casino in Perryville.
There's even a physical sportsbook at the largest bingo hall in the city of Baltimore, with a BetRivers Sportsbook located in Bingo World. There are also plans for more retail sportsbooks to open up in Maryland at FedEx Field (home of the Washington Commanders), Long Shot's, Riverboat on the Potomac, and more.