American Gaming Association Reports $14.3 Billion in Q1 Commercial Gaming Revenue, Sports Betting on the Rise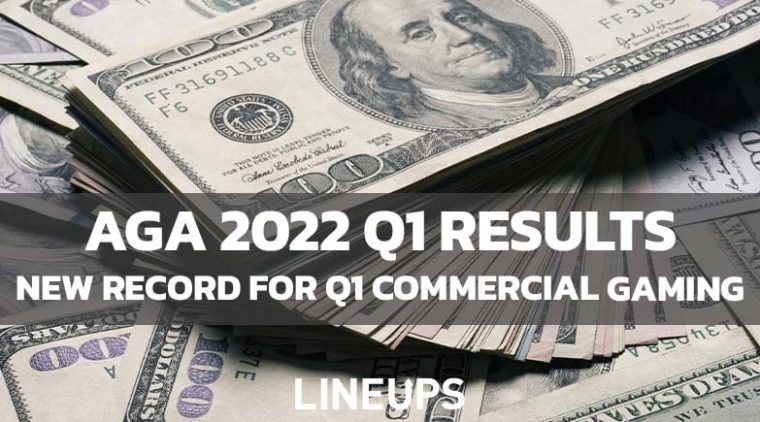 The American Gaming Association (AGA) published its Commercial Gaming Revenue Tracker results for Q1 2022 on Wednesday, and the results are incredibly impressive as the commercial gaming industry continues to grow.
Nationwide commercial gross gaming revenue (GGR) totaled $14.31 billion in Q1 2022, which is a new record for Q1 and matches the all-time quarterly record set in Q4 2021 of $14.35 billion. The total GGR was up 28.6% from Q1 2021 and 33.9% from Q1 2019.
AGA President and CEO Bill Miller noted that "four years post-PASPA, legal sports betting's success is proving what we've known all along: American consumers are eager to wager within the protections of the regulated market. It also reinforces the need to stamp out offshore, illegal operators who prey on vulnerable customers."
NCAA Tournament Fuels Historic March
In March, the AGA reported a total nationwide GGR of $5.31 billion, making it the highest-grossing revenue month in industry history. According to a National Research Group study, 31% of Americans aged 21-64 wagered on this year's NCAA Men's Basketball tournament and it was by all accounts the most wagered upon NCAA Tournament of all time.
States Set New Q1 Records
Of the 34 commercial gaming jurisdictions in the United States, 32 of them surpassed their Q1 revenue from 2021 and three of them set new quarterly records including Arkansas with $147.4 million, Florida with $182 million, and New York with $996.6 million. New York launched online sports betting on January 8 but has yet to launch iGaming.
Sports Betting on the Rise
In Q1, the nationwide sports betting handle more than doubled year-over-year with a 102.3% increase from $13 billion in 2021 to $26.34 billion in 2022. Sports betting GGR was up 64.6% from Q1 2021 and 804.1% from Q1 2019 as it reached $1.58 billion, just short of the quarterly record of $1.55 billion set in Q4 2021.
New York launched sports betting in Q1 and quickly became the leader in the market with quarterly revenues that reached $320.9 million from a handle of $4.87 billion. That handle was more than states like Michigan and Virginia generated in all of 2021 and more than several states have generated over the lifetime of their online sports betting markets.
Concerns over New York's launch affecting neighboring states were quickly dispelled as the AGA noted that both New Jersey and Pennsylvania saw wagering activity expand year-over-year by 34.9% and 25% respectively.
State of the States Results
The AGA also recently published its results for the 2021 State of the States report. According to the website, this report details the "commercial gaming industry's financial performance, including analyses of each of the 34 jurisdictions with commercial gaming operations in 2021." The report is developed in partnership with VIXIO GamblingCompliance.
After COVID-19 drove the commercial gaming industry to all-time lows for revenue in 2020, it rebounded in 2021 with a record-setting recovery. Annual commercial gaming reached a new record of $53.03 billion, a 21.5% increase from 2019.
Miller expanded on the success of the industry, describing the impact on "communities across the country. The record state and local tax contributions fund vital services from infrastructure and education to healthcare and emergency services."
Immense Betting Growth in 2021
In 2021, commercial sports betting GGR totaled $4.33 billion which was a 179.7% year-over-year increase from $2.4 billion. Meanwhile, iGaming GGR reached $3.71 billion, a 138.9% year-over-year increase from $2.67 billion.
All jurisdictions with commercial casinos or sports betting reported an increase in 2021 GGR compared to 2020. 23 of the 43 jurisdictions (53%) reported record annual commercial gaming revenue in 2021. Seven new sports betting markets launched in 2021 in addition to two new iGaming markets.
Tax revenue continues to grow as well – commercial gaming generated a record $11.69 billion in direct gaming tax revenue paid to state and local governments. That's a 75% increase from 2020 and a 15% increase from 2019. That $11.69 billion doesn't include billions more paid in income, sales, or other taxes.