AGCO Dishes Fines to BetMGM and PointsBet For Violations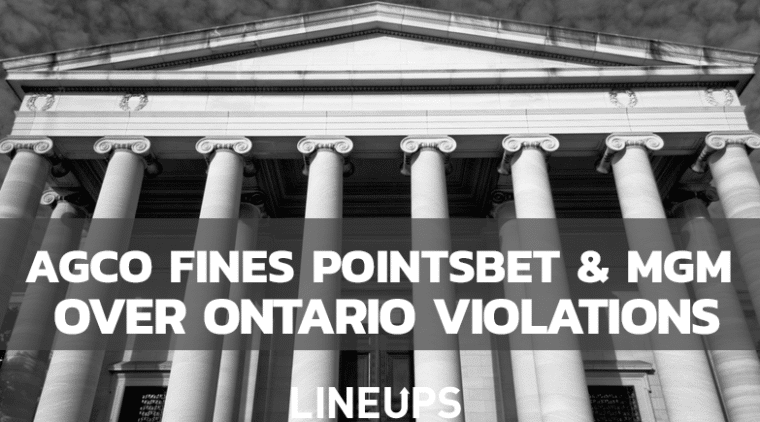 Standard 2.04 & 2.05
Almost one month to the day after Ontario launched its legal sports betting market, the governing bodies have fined two licensed operators, PointsBet and BetMGM, for violations of two codes in the Registrar's Standards of Internet Gaming set forth by the Alcohol and Gaming Commission of Ontario (AGCO).
CEO of AGCO Tom Mungham said in a statement: "The AGCO holds all registered operators to high standards of responsible gambling, player protection and game integrity, and monitors their activities to ensure they are meeting their obligations under Ontario's Gaming Control Act and the Standards."
PointsBet was fined $30,000 CAD for violation of Standard 2.04 while BetMGM was fined $48,000 CAD for violations of Standard 2.04 as well as Standard 2.05. 
Standard 2.04 states: "Marketing, including advertising and promotions, shall be truthful, shall not mislead players or misrepresent products."
Standard 2.05 states: "Advertising and marketing materials that communicate gambling inducements, bonuses and credits are prohibited, except on an operator's gaming site and through direct advertising and marketing, after receiving active player consent."
Violations
According to the AGCO, BetMGM carried out a total of four alleged violations. In violation of Standard 2.05, BetMGM took to Twitter two separate times to offer a "$250k Launch Party" where the first place winner would receive a $100k casino bonus. It took to Twitter several more times to advertise a Bellagio inducement that included a $10 casino bonus with a bet of $25 or more, followed by a "Jimi Hendrix Free Spin Friday" advertisement on Twitter that gave players 100 free spins in return for a follow on Twitter. 
Contrary to Standard 2.04, BetMGM tweeted, "the more money you put in per bet, the higher your chance is of winning."
PointsBet also received infractions for its violations of Standard 2.05 which prohibits gambling inducements outside of the operators gaming site. Between April 4 and April 21, PointsBet had flyers on both GO Transit trains and GO Transit train stations promoting an opportunity to play for free. 
Ontario is one of the only legal gambling jurisdictions in the world that prohibits broad public advertising of free play and gambling inducements. The gambling commission in New South Wales, Australia prohibits this as well. 
Aftermath
Should PointsBet or BetMGM want to appeal these violations, they can do so through the Licence Appeal Tribunal, a separate entity from the AGCO. However, it does not seem as though PointsBet atleast will be doing so, as CEO Scott Vanderwel responded to an email from Sports Handle expressing apologies for the violations.
"On behalf of PointsBet Canada, I personally apologize for our error made in the interpretation of the standards set forth by the Alcohol and Gaming Commission of Ontario (AGCO) leading to this outcome. I am appreciative of the considerable efforts made by our local team and close partners to remediate the issue once we were notified," Vanderwel wrote. 
BetMGM has declined to comment on a status or response to the penalties.