AGA Projects over $7.6B to Be Wagered on Super Bowl 56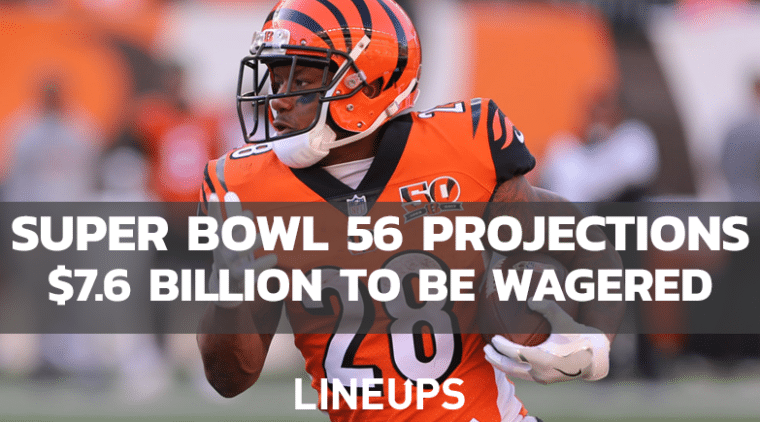 Super Bowl Wager Projections
The American Gaming Association (AGA) had a press release on Feb. 8 that revealed their wagering projections for the United States on Super Bowl LVI, and the results were staggering. They are projecting 31.4 million of age Americans to bet a total of $7.61 billion on the big matchup this week between Joe Burrow and the Cincinnati Bengals and Matthew Stafford and the Los Angeles Rams. That's about 18 percent of the expected Super Bowl viewers.
The 31.4 million projected bettors would be a 35% increase from Super Bowl bettors in 2021, and the $7.61 billion wagered would be a $3.3 billion increase from the 2021 Super Bowl handle. This large increase can likely be attributed to the 45 million more Americans who can legally wager on this year's game in their home state compared to 2021 since last year's Super Bowl, Arizona, Connecticut, Louisiana, Maryland, New York (online), North Dakota, South Dakota, Washington, Wisconsin, and Wyoming went live.
What Super Bowl Bets Do People Place
Some of the most popular bets that are already being placed for this year's big game are on which player will score the first touchdown, the Super Bowl MVP, or the spread and point total; then others are more casual – like the color of the Gatorade poured on the winning coach or the outcome of the coin toss. Take a closer look at some of these bets here.
An estimated 18.2 million (78% increase from 2021) Americans will place sports bets online, at retail sportsbooks, or with a bookie. 18.5 million people will bet casually with friends or with squares, which is a 23% increase from 2021. These bettors are slightly favoring the Rams in Super Bowl LVI as AGA is expecting 55% of fans to bet on the Rams to win and 45% of people to bet on the Bengals to come out victorious. According to AGA, at the beginning of the season, 1% of expected bettors were going to place a bet on a Bengals Super Bowl LVI win. Just 2% would have picked the Rams.
Betting in California & Ohio
Ironically, sports betting is not legal in Ohio or in California; however, 26% of Rams fans still plan to bet on the game and 22% of Bengals fans do as well. The Northeast is leading the charge in expected participants (16%), followed by the West (15%), then the Midwest (10%), and the South (10%).
As of today, 30 states plus Washington D.C. have legal sports betting markets, and three states are awaiting approval into the legal market. In all of these states and in the sports betting industry in general, responsible gaming and gaming education is a large investment that many sportsbooks and industry participants partake in during the legalization process. According to AGA, 106 million sports bettors recall seeing/hearing responsible gaming advertisements in the past year. AGA's very own campaign, Have A GamePlan – Bet Responsibly, is one that is bringing sports betting stakeholders together to promote acceptable gambling practices; partners in this campaign include the New York Jets and the Washington Commanders.