Aaron Rodgers to the Broncos with Hackett Hired? Sportsbooks Say Yes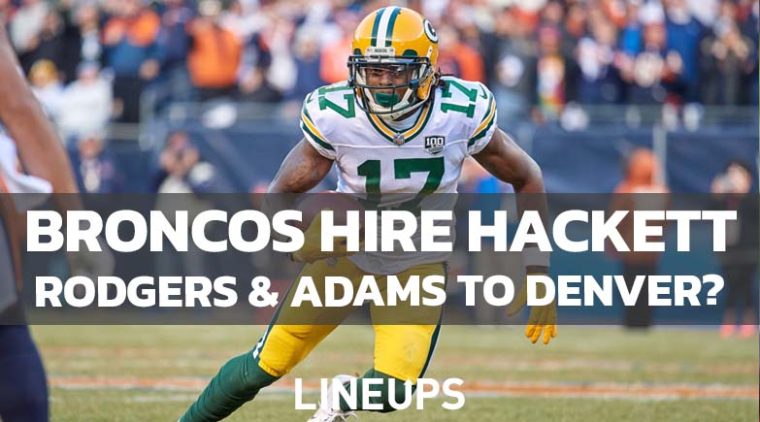 Early Thursday morning, the Denver Broncos announced that they had reached an agreement with former Packers' offensive coordinator Nathaniel Hackett to become the team's new head coach. Hackett had been scheduled to interview with the Jaguars on Thursday, but the Broncos didn't take any chances and made sure they agreed to a contract on Wednesday night.
Hackett becomes Denver's fourth different coach since the 2016 season. He also caused a massive change in the futures market for the Broncos, but not just because he's a good enough coach to completely change the team's outlook. Aaron Rodgers is now heavily rumored to be joining the Denver Broncos, and Davante Adams, his All-Pro wide receiver, could be coming with him. The contractual aspects would need to be sorted out, and a trade for Rodgers would be necessary, but the odds market shifted drastically on Thursday nonetheless.
Aaron Rodgers to the Broncos Speculation Runs Rampant
Last offseason, when Rodgers had not appeared at mandatory training camp and was making national media headlines for questions over his future in Green Bay, there were a handful of destinations floated as possible landing spots. However, the most prominently discussed team to land Rodgers was the Denver Broncos. Now, a coach who Rodgers has become quite fond of is in Denver waiting for him.
With a ready-to-compete roster loaded with talent on both sides of the ball, the Broncos have just been missing a quarterback who can help them compete for a championship. There has also been speculation about Shailene Woodley, Rodgers's recent fiancee, living in nearby Boulder for at least part of the year. It may be a stretch, but it follows logic that Denver would be a good landing spot for Rodgers to be closer to her.
Rodgers has spoken very highly of Hackett in the past, saying he has been deserving of a head coaching job for a while now and that Hackett was a major part of a positive culture shift in Green Bay. Of course, new Broncos' general manager George Paton remained coy on the matter, saying Rodgers was "absolutely not" a factor in the hiring of Hackett. However, it can't be denied that Rodgers would cherish the opportunity to have more of a say in the offense in Denver.
Odds Market Changes Drastically
The first noticeable difference in the odds market following the hiring of Hackett was the change in the Broncos' Super Bowl odds. DraftKings opened the Super Bowl odds for the 2022-23 season with Denver at +3500 odds, but after the news of Hackett's hiring spread on Thursday, the odds dropped significantly down to +1800.
In addition, the Broncos are now the odds-on favorite to acquire Rodgers this offseason. The odds were about +200 before Hackett's hiring for Rodgers to play for the Broncos in Week 1, and now they sit at around -150. Of course, some of that is the sportsbooks hedging the bets themselves and protecting themselves against big money coming in.
Per Bovada, Davante Adams is also highly favored to join the Broncos and would theoretically be following his current quarterback to their new team. Adams's odds shifted to -150 to play for the Packers in Week 1 and +175 to play for the Broncos in Week 1. Bovada has Rodgers at -130 to play in Denver and +165 for Green Bay.
Futures markets like these are almost always designed to be a coup for the sportsbooks, and you should be careful placing any kind of significant money on these markets. However, the drastic odds shift is indicative that a major quarterback shake-up could be coming this offseason, and Rodgers could be bringing Adams to Denver to keep playing for Nathaniel Hackett.