2022 World Cup Odds & Groups (Live Updates): What Group Are The United States In?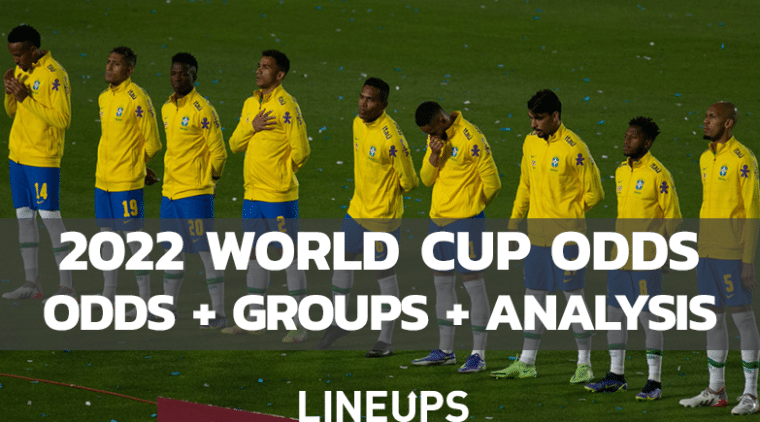 The World Cup kicks off this summer in Qatar and the groups have been chosen. Brazil and France come in as the favorites, alongside other heavy hitters like England, Spain, and Germany. World Cup odds point towards USA and Mexico having a tough time cracking the final few rounds but are longshot odds worth taking.
2022 World Cup Odds
Brazil comes in as the massive favorite alongside France. Odds will be the best early on to get them as a future winner.
Belgium and Portugal represent some middle-of-the-table value and have the talent to make a deep run granted a favorable draw comes their way.
Argentina, Denmark, and Uruguay sit with excellent value heading into the tournament. Seeding will determine how we really think of their odds, but the talent is there if they can reach the knockout stages.
As for the North American teams, Mexico and United States are around +8000 and +1000, shop them around because they have some massive differences across sportsbooks. Canada is in the same boat with +25000 odds and +10000 odds elsewhere.
Some of the best long shot odds are between Ghana and South Korea. Both have a chance to upset some of the top teams in this tournament.
2022 World Cup Groups
Group A
Group B
Group C
Group D
Group E
Group F
Group G
Group H
2022 World Cup Group Analysis (Live Updates)
When Does The World Cup Start?
Due to the temperatures in Qatar, the World Cup will start on November 21st and the final will be played on Sunday, December 18th. Domestic leagues will take a break during the World Cup.
What Time Will Matches Start?
If you are in the Eastern Time Zone, matches will start between 5 a.m. and 2 p.m.
When Is The 2022 World Cup Final?
Group Play: Nov. 21 – Dec. 2
Round Of 16: Dec. 3-6
Quarterfinals: Dec. 9-10
Semifinals: Dec. 13-14
3rd Place Match: Dec. 17
Final: Dec. 18