2022 Wimbledon Odds, Predictions, Best Bets: Tsitsipas to Dethrone Djokovic?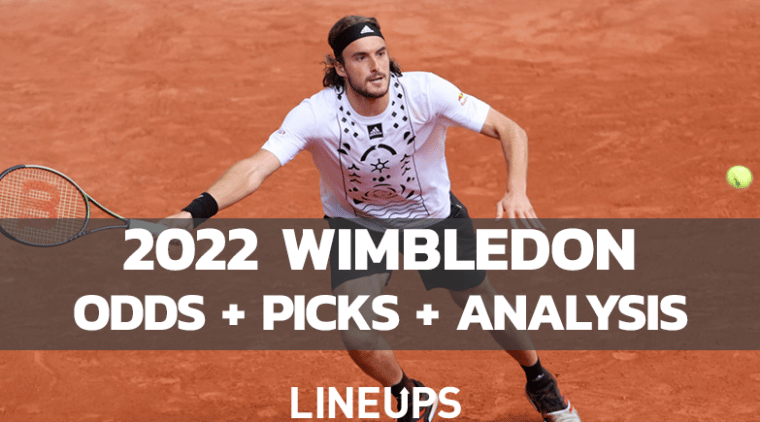 Wimbledon – the most respected tennis tournament in the world – starts June 27th and dominates the spotlight for two weeks. It features grass courts, which are far less common than clay and hard courts on the ATP Tour. Because there is less friction on grass courts, a ball will move faster off of a bounce and fly at a lower trajectory than usual. Due to this difference, the effectiveness of powerful serves, groundstroke slices, and net play are enhanced. Experience is a huge factor, as it will aid players in predicting and reacting to the unusual bounce of the ball. Newer players who haven't competed extensively on grass may be caught off guard initially.
*all statistics via atptour.com
Novak Djokovic Winner (-120 DK)
Old reliable. Djokovic has won Wimbledon five of the last seven times, including the last three. He is ranked 3rd in the 2022 ATP Rankings and continues to dominate the sport at 35-years-old. Roger Federer – one of the best grass court players of all time – is out due to injury, so Djokovic doesn't have to hurdle that obstacle. Daniil Medvedev (1st) and Alexander Zverev (2nd) are also not in the tournament, so Djokovic is the highest ranked player competing. 
Djokovic is arguably the most dominant returner in tennis history and owns the best career first serve return win percentage (30.99%) on grass courts among active players. This ability is especially important at Wimbledon. Because the ball is moving faster, it's harder to accurately control a return shot and optimally place it. Djokovic will thrive in this situation and limit mistakes that probably cost the vast majority of players. His footwork is also superb, so he will be in a better position to strike the ball than most. Grass courts can add unpredictability to the bounce, so having exceptional footwork is essential to diminishing the damage from this. In the end, it's hard to go against Djokovic's dominance and immense experience on grass courts. 
Stefanos Tsitsipas To Reach The Final (+1100 DK)
Tsitsipas is currently 6th in the 2022 ATP Rankings. He's 15th among active players in career first serve win percentage on grass at 77.49%. His above average serve speed and 6'4" frame will allow him to take advantage of the grass. He often aims powerful forehands into the corners, and the grass will amplify the speed and difficulty of return. Tsitsipas' elite net play is also crucial here because the unforgiving bounces reward volleys and rushing the net. It's going to be tough for opponents to return his diving volleys because grass requires a quicker reaction time. Tsitsipas' backhand slice will cause problems for opponents because the ball will sit more than usual, causing a weak return. Overall, I like Tsitsipas' skill set for Wimbledon. 
Just like Djokovic, Tsitsipas will not have to worry about defeating Medvedev or Zverev. Plus, Tsitsipas isn't on Djokovic's side of the bracket, so he doesn't have to face him until the Finals. Avoiding Djokovic is absolutely central to the probability of Tsitsipas reaching the Finals, as Djokovic is the rightful favorite. I don't like Tsitsipas' chances in a match against Djokovic, which is why I have him reaching the Finals and not winning it.
Andy Murray Under 19.5 Total Games Won vs James Duckworth (-115 DK)
Murray isn't at the same level as Djokovic, but his return game is absolutely fantastic. He's 3rd in career first serve return win percentage on grass among active players at 30.08% (behind Djokovic and Federer). He's a two-time Wimbledon champion with vast experience on grass courts. Murray has looked sharp recently, as he defeated Tsitsipas and Nick Kyrgios earlier this month.
I don't think he will drop a set to his opening round opponent James Duckworth, who is not tailored for Wimbledon. Duckworth's career first serve win percentage on grass (71.25%) and first serve return win percentage on grass (22.77%) are both mediocre. His below average serve speed will hurt him here, especially against such a great returner. Given the talent and type of court, the closest Duckworth will get to Murray in any of the three games is 6-4.