2022 Pebble Beach Pro-Am: Odds, Predictions, Picks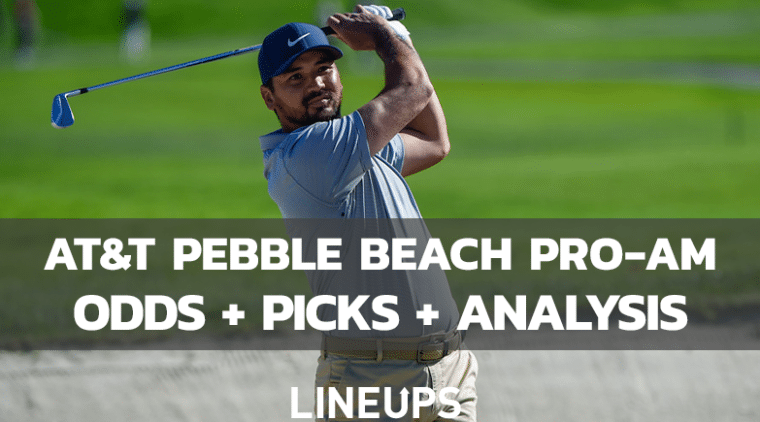 Moving up to Northern California, the 2022 AT&T Pebble Beach Pro-Am is set to tee off on Thursday. Odds have listed Patrick Cantlay as the favorite, but a few other names join him in that regard, like Daniel Berger, Jason Day, and Jordan Spieth. Much like a few of the earlier tournaments, there are three courses being rotated this week and the cut line will be after the third day. Get up-to-date Pebble Beach odds, predictions, and picks leading up until tee-off on Thursday morning.
2022 Pebble Beach Pro-Am Odds
Select Dropdown to view various 2022 Pebble Beach Pro-Am Betting Odds
Pebble Beach Pro-Am Course Notes
As mentioned above this is a three-course tournament, where Pebble Beach will be in line for two of the four days, as Spyglass Hill and Monterey Peninsula will be the other two. Monterey Peninsula is the easiest out of the three, and those who can capitalize on Par-5 scoring can take advantage here. It is a Par 71 course and it boasts Poa greens alongside the other two.
Spyglass Hill is a bit more challenging and out of the three, you can say it is the more challenging course. It is the longest out of the three courses and much like Pebble Beach, Strokes gained: Around the Green & Approach are going to be key things to look at. Putting, as usual, is going to be in play, especially on Poa and Wind play is worth adding into your model.
Pebble Beach Pro-Am Recent Winners
2021 – Daniel Berger (-18)
2020 – Nick Taylor (-19)
2019 – Phil Mickelson (-19)
2018 – Ted Potter Jr. (-17)
2017 – Jordan Spieth (-19)
Pebble Beach Pro-Am Course History Notables
It is important to note that the Monterey Peninsula was not played last season and it was just strictly played between Pebble Beach and Spyglass Hill. To mention that, Daniel Berger won last year and had a T5 in 2020. Jason Day has had a great course history here, finishing T5 or higher in four of the last five trips here, then a T7 last year.
Kevin Streelman has had some success here, finishing 2nd in 2020 and 6th in 2018. He has not finished below 15th in his last five tournaments here. While Maverick McNealy missed the cut back in 2018, I weight his more recent success here heavier. He has finished T5 and 2nd in the last two outings at the Pro-Am and has been playing some sound golf of late.
On the other end of the spectrum, Seamus Power has missed two cuts in the last four trips and has not finished higher than T38. Ryan Palmer, Tom Hoge, and Mackenzie Hughes are a few notable names with struggles at this tournament.
2022 Pebble Beach Pro-Am Picks & Predictions
A couple of big names headline this group of odds, but there are a handful of values that make sense even for being big names. Using the stats above in addition to course history, recent history, and value of odds, you can find Pebble Beach Pro-Am Picks & Predictions below.
Outright Winner
Jason Day (+2000) – Course history is on Jason Day's side here, finishing T7, 4th, T4, T2, and T5 over the last five years. After some rough play and going through swing changes, Day finished T3 at the Farmers. I believe this is where we start to see Day begin to trend back up into being a more consistent player. Over his last 24 rounds, Strokes Gained: Putting and Around the Green stand out the most, where he has been average in approach and opportunities gained.
Top 5 Picks
Justin Rose (+400) – It has been rare for Justin Rose to play in this event, given his last showing here was a T39 back in 2017. However, he ranks 29th in the field in SG: Approach, 32nd in SG: Putting, 6th in SG: Total, and 1st in Opportunities Gained Over The last 24 rounds. He is coming off a T6 at the Farmers and in a rather light field for big names, I would be surprised to see Rose outside the top five this week. Weighting approach more heavily this week and around the greens play, Rose checks those boxes.
Mito Pereira (+700) – Hovering around T25-30 the last few events, could we see the Mito Pereira jump this week? He ranks 7th in SG: Approach and Opportunities Gained over the last 24 rounds. He is 43rd in SG: Putting. The around the green numbers are a bit lower than I want them to be, especially at Pebble, but his upside and odds are well worth chasing here. Out of the field, Pereira ranks 25th in Proximity 100-125.
Top 10 Picks
Kevin Streelman (+350) – Another course history guy, Kevin Streelman has three top tens here in the last five tournaments. Some rather poor play coming into this week but this is a spot where he can turn it around. The around the green play continues to be his best stat, ranking 22nd, and Opportunities Gained is trending up. The putting has been the downside of late, but at events like this, he has done well.
Top 20 Picks
Andrew Putnam  (+300) – Grading out really well in my model this week is Andrew Putnam. He has had a good start to the season, finish T14 at the Amex and T27 at the Sony. He ranks 18th in Opportunities Gained in the field and is top 40 in SG: Approach and Around The Green. He has also been a pretty stable putter, which consistency should keep him around the top 20 mark. Putnam also ranks 2nd in Proximity 100-125, which bodes well for these courses. Just for an added bonus, he ranks 19th in Strokes Gained: Par 5, where he could make some moves on Monterey.
All stats from Fantasy National