2022 Open Championship Odds, Predictions, & Best Bets: Scottie Scheffler To Win A Second Major?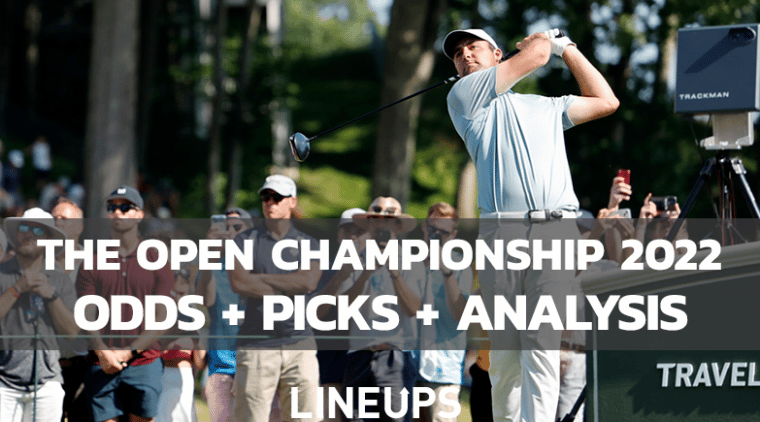 The 150th Open Championship – or British Open as it's commonly known – takes place July 14-17 on the oldest golf course in the world: St. Andrews. The course is known for its immensely wide fairways, countless bunkers, double-greens, and weather conditions. The usual wind and rain haunt tee shots and force golfers to hit under strenuous conditions. However, the forecast looks clear besides Saturday, which could make it "too easy" and a "wedge contest", according to Jordan Spieth. 
Although it won't be murder on the links, the course isn't actually as difficult as other majors when the weather cooperates. The main obstacle to avoid is the ruthless vertical bunkers that can easily trap players for multiple strokes. Because the greens are also vast and contoured, three-putting is a realistic outcome. As Spieth claimed, approach shots will be the featured skill. Avoiding treacherous bunkers and long putts will be the factor that separates the leaders from the middle of the pack. Driving accuracy is less important than other courses because the fairways are so wide. 
*all true strokes gained statistics via datagolf.com
Open Championship Odds 2022
Rory McIlroy
Jon Rahm
Scottie Scheffler
Justin Thomas
Collin Morikawa
Jordan Spieth
Cameron Smith
Xander Schauffele
Viktor Hovland
Shane Lowry
Brooks Koepka
Will Zalatoris
Matthew Fitzpatrick
Patrick Cantlay
Dustin Johnson
Hideki Matsuyama
Scottie Scheffler Winner () & Top 5 ()
Scheffler has six Top 5 finishes in professional tournaments over the last six months. He won the Masters and finished tied second at the US Open, so Scheffler is no stranger to performing in the majors this year. For players in the British Open, he ranks 3rd in true strokes gained for approach shots and 5th in true strokes gained around the green. In fact, Scheffler ranks 1st in the field in combined true strokes gained for approach, around the green, and putting.
His efficient wedge play will boost birdie chances and reduce the risk of catastrophic holes from bunkers. Should he find himself in a difficult position around the green, he has the skill to set himself up for a par putt when others would score a bogey. Scheffler isn't exceptional off the tee, but he is good enough to limit mistakes and allow his irons and wedges to shine. Overall, his balanced game and strengths will vault him to the top of the leaderboard. 
Will Zalatoris Top 5 ()
Zalatoris has six Top 5 finishes in professional tournaments over the past six months. He has been dominant in majors this year, as he finished tied 6th (Masters), 2nd (PGA Championship), and tied 2nd (US Open). He hasn't been able to clinch a victory, but Zalatoris has consistently put himself in a position to win it all. He ranks 4th in the field for true strokes gained on approach shots, and he is 1st tee to green. His putting is average, but Zalatoris' elite drive and approach should bestow him fantastic looks on the green. If Zalatoris putts to his usual standards, he can place in the top five. However, if he can sharpen his putting game, Zalatoris is a real threat to win. 
Paul Casey Top 10 ()
Casey has been sidelined this year due to a lingering back issue, so there are legitimate concerns about his ability to play 72 holes. The former world #3 has only played six professional tournaments in the past six months, but his ability is enticing for the +1200 Top 10 mark. The sample is smaller, but Casey is 1st in true strokes gained for approach shots and 9th tee to green. His average putting and driving will hamper him slightly, but I believe in the approach upside. +1200 for Top 10 is good value here. 
The Open Odds Comparison