2022 NCAAB Championship Odds After March Madness Bracket Release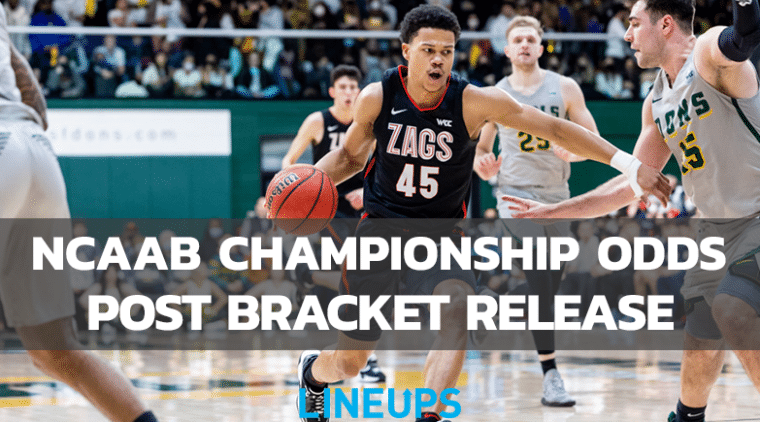 It is now officially time for some madness as the bracket has been released and NCAAB championship odds are now reflecting the seeding. Gonzaga remains the frontrunner, while Arizona, Kentucky, and Duke all lurk right behind them. However, there is no strong read on a champion this year, so some middle-table values are going to be very intriguing.
2022 NCAAB Championship Odds
2022 NCAAB Championship Favorites
Gonzaga has been the frontrunner all year long but getting over the hump continues to be a big issue when it comes to the Zags in March. The short odds don't make them a great value and with how deep this tournament is, we could see quite a few higher seeds go down early.Arizona was one of the very few Conference leaders to take home their conference tournament championship. This Wildcat team was not seen as a threat before the season but Tommy Lloyd has flipped the script.The narrative is set for Duke to make a championship run in Mike Krzyzewski's last year. They looked sloppy in their last two games but likely looking ahead at the tournament as well. At +1000 odds, Duke is certainly worth a look.The Big 10 and Big 12 seemingly beat up on each other this year but are going to be two of the deeper tournaments in the conference. Baylor and Kansas have the highest upside, but Texas Tech is going to be a very tough out. As for the Big 10, Purdue is sitting with the best odds, yet I wouldn't be surprised to see them be on upset alert early.
Longshot Values
Saint Marys caught my eye at +10000 as they were the next best team outside of Gonzaga in the WCC. They beat teams like Notre Dame and Oregon earlier this season and had a tight loss to Wisconsin. This team can compete against anyone with a balanced scoring unit and strong defense.
Murray State is at +15000 and is going to be a candidate for being a Cinderella story, yet nobody would be surprised. The Racers went 30-2 in the OVC this season and behind this offense, a deep run is well within their range of outcomes.
March Madness 2022 Bracket
NFL MVP Odds FAQ
Who Is The Favorite To Win College Basketball Championship?
When Does The First Round Start?
How Do I Bet On College Basketball?
Who Is The Favorite To Win College Basketball Championship?
Currently, Gonzaga is the favorite to win the NCAAB Championship. They lost just three games this season, going 26-3. They won the WCC conference and conference tournament.
When Does The First Round Start?
While there are play-in games on Tuesday and Wednesday (March 15th & 16th) the Round of 64 will start on Thursday and Friday before the Round of 32 on the weekend. Games will be played according to their region.
How Do I Bet On College Basketball?
If you are 21 years or older and physically located in one of the legal U.S. states for sports betting, you can download any of the online sportsbooks offered. Use Lineups for the best new-user bonus to then place wagers on any college basketball game.