2022 Masters Odds & Prop Pets: Cameron Smith Getting Buzz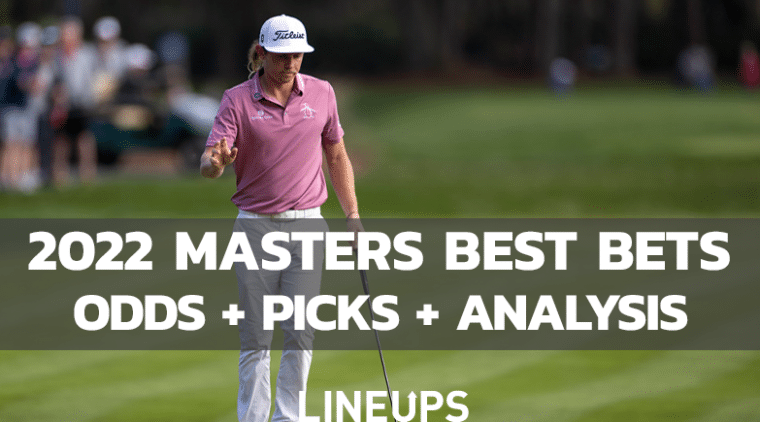 The 2022 Masters at Augusta National spans from Thursday, April 7th to Sunday, April 10th. As the most prestigious of the majors, players dream of winning a green jacket at the Masters. Players will bring their best to try and engrave their names in the history books. Here are my favorite bets for the 2022 Masters. 
2022 Masters Outright Winner Pick
Cameron Smith (+1400 DK)
Cameron Smith is currently ranked 6th in the world for the PGA Tour. He's had four Top 10 finishes so far in 2022 and two 1st place finishes. Smith was runner up in the 2020 Masters and won the 2022 Players Championship. Augusta National has bigger greens than average, but the constant contours, steepness, and elevation changes mean precision is key. You can hit two chips or pitches that land within millimeters of each other, and they end up 10-15 feet apart. The chart below embodies why I believe Smith is a great bet at +1400. Average strokes gained means how many strokes a player saved per round. For example, if a player's average strokes gained for putting was 0.896, then that player trimmed 0.896 strokes off of their round because of superior putting. The higher the number, the better. It is relative to other PGA players and standardizes for situation, similar to how per 100 possessions in basketball adjusts for pace.
Smith has been an elite putter this year, but he's also been excellent around the green. Because the short game is vital at Augusta National, I am going with the player who has displayed accuracy and precision up until this point. Gay, Kuchar, and Knous also excel in this area, but they don't have the broad success that Smith has had. The odds for Smith to lead after Round 1 and win the tournament are +3500 DK, so that is another avenue to consider for much longer odds.
2022 Masters Top 5 Finish
Jon Rahm (+230 DK), Scottie Scheffler (+300 DK), Cameron Smith (+330 DK)
If it's too risky to bet on an outright winner, then betting top 5 is a safer yet still profitable path. Jon Rahm had the most Top 10 finishes in 2021 with 15; the second most was nine Top 10 finishes, which was achieved by four golfers. In 2022, Rahm has four Top 10 finishes with a 2nd place and 3rd place finish. Scottie Scheffler, meanwhile, leads the PGA with six Top 10 finishes in 2022, including three 1st place finishes. Scheffler is the current world #1, and Rahm is #2. The chart below is a broader measure of their efficiency in 2022. Average strokes gained is for every single shot, not just short game like the previous chart. Greens in regulation percentage is the frequency in which the player hits the green in two or more strokes less than par for the hole. For example, a player hits the green in regulation if he's on the green in two shots for a Par 4 or on the green in three shots for a Par 5.  
Rahm, Scheffler, and Smith are elite compared to other PGA Tour golfers. All three rank highly because they are overall excellent golfers with few deficiencies. It's a very good bet that at least one of these three makes the Top 5 in the 2022 Masters. Based on experience, pedigree, and skill, I like Rahm, Scheffler, and Smith to finish in the Top 5. If you bet a unit on each and only one finishes Top 5, you would still make a profit. 
Jon Rahm (-175 DK) To Make An Eagle
Because most bets will feature long odds, here is one that has much shorter odds. Rahm is 7th in 2022 with an average driving distance of 315.8 yards per drive. Rahm also easily leads the PGA Tour in average strokes gained off the tee at 1.299 per round. The difference between him and 2nd place Keith Mitchell (0.815) is the same as the difference from Mitchell to 40th place. Rahm dominates with his drive, but also has an excellent approach shot. I like Rahm to make an eagle here because he is superb at all of the necessary traits.
*Stats from pgatour.com
Masters 2022 Betting Odds