2022 Big 12 Basketball Tournament Odds, Bracket, Schedule, Predictions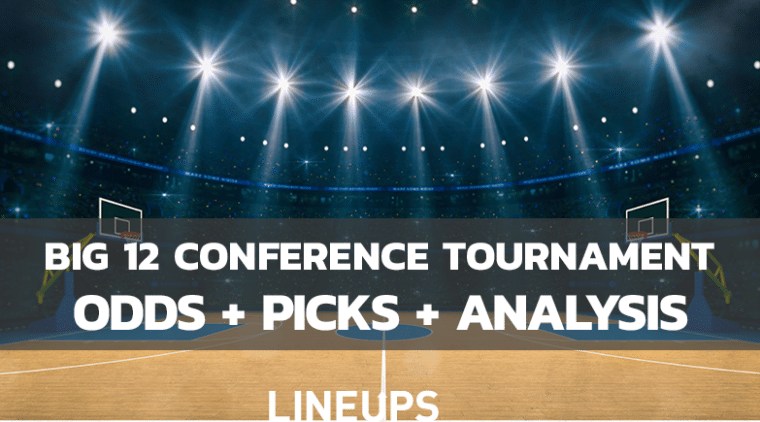 The regular season of Men's Division I Basketball ended last week, and now all eyes are on the conference tournaments before looking to the March Madness brackets. The Big 12 is one of the most anticipated conference tournaments in the nation due to many of the teams' highly competitive nature and unpredictability. Last Sunday, the schedule was released with the Kansas Jayhawks and Baylor Bears leading the pack as favorites in the top seeds. Notice anything different with this year's bracket? Oklahoma State is banned from all postseason games due to an investigation of their ex-assistant coach for the 2022 year. With Oklahoma State ineligible for the tournament, the West Virginia Mountaineers will play the Kansas State Wildcats in the first game of the tournament on Wednesday to fight for the last seed in the quarterfinals. The tournament is taking place in Kansas City, Missouri, this year and will be underway throughout the week and can be viewed on ESPN and ESPN+.
Big 12 Basketball Tournament Odds
2022 Big 12 Tournament Bracket & Schedule
All times are in Central Standard Time
Wednesday, March 9 – First Round
6:30 PM – West Virginia Mountaineers vs. Kansas State Wildcats (ESPNU)
Thursday, March 10 – Second Round
11:30 AM – TCU Horned Frogs vs. #21 Texas Longhorns (ESPN 2)
2:00 PM – Winner of West Virginia/Kansas State vs. #6 Kansas Jayhawks (ESPN)
6:00 PM – Oklahoma Sooners vs. #3 Baylor Bears (ESPN)
8:30 PM – Iowa State Cyclones vs. #12 Texas Tech Red Raiders (ESPN 2)
Friday, March 11 – Semifinals
6:00 PM – Winners of Thursday afternoon game (ESPN/ESPN 2)
8:30 PM – Winners of Thursday night game (ESPN/ESPN 2)
Saturday, March 12 – Big 12 Tournament Championship
5:00 PM – Semi-Final winners (ESPN)
2022 Big 12 Tournament Prediction
The two teams who are expected to win the title are the Baylor Bears and the Kansas Jayhawks. However, the Texas Longhorns won the tournament last year and have the potential to steal it again this season. This year's Big 12 Conference is stacked with other teams like the Texas Tech Red Raiders and the surprising TCU Horned Frogs that can make this tournament interesting. All throughout the regular season, there have been massive upsets between all teams which leaves this tournament hard to pin down. I would definitely be watching the Texas Tech Red Raiders carefully because their shooting ability and aggressive defense can separate them from these other teams. However, the Kansas Jayhawks have the superior player Ochai Agbaji that can keep his team in the lead. One thing's for sure; anything can happen in the college basketball postseason.