2022 ACC Basketball Tournament Odds, Bracket, Schedule, Predictions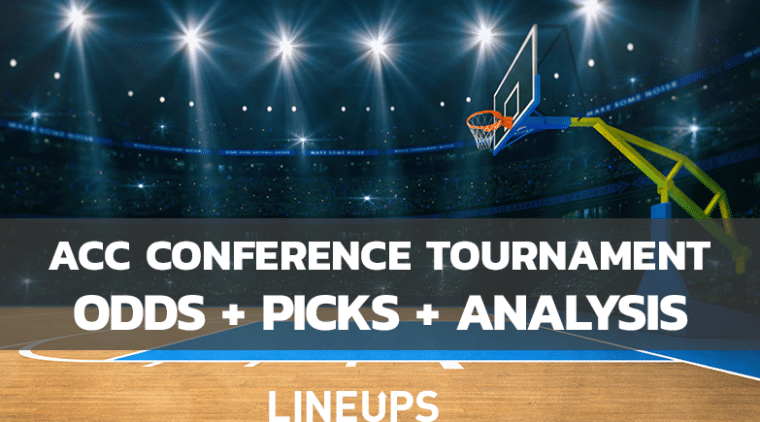 The ACC Basketball Tournament tips off this week and we have you covered with betting odds, bracket, schedule, and predictions. Duke are the large favorites to take down the tournament but North Carolina, Wake Forest, and a few others will be looking to make a deep run into the playoffs. The ACC isn't as loaded as prior seasons, but it will be a great tournament. Check back here for updated odds on the ACC tournament.
ACC Basketball Tournament Odds
2022 ACC Tournament Bracket & Schedule
Tue, March 8 – First Round
2 p.m. – No. 12 Pitt vs. No. 13 Boston College (ACC Network)
4:30 p.m. – No. 10 Clemson vs. No. 15 NC State (ACC Network)
7 p.m. – No. 11 Louisville vs. No. 14 Georgia Tech (ACC Network)
Wed, March 9 – Second Round
Noon – No. 8 Florida State vs. No. 9 Syracuse (ESPN)
2:30 p.m. – No. 5 Wake Forest vs. Pitt/Boston College Winner (ESPN)
7 p.m. – No. 7 Virginia Tech vs. Clemson/NC State Winner (ESPN2/ESPNU)
9:30 p.m. – No. 6 Virginia vs. Louisville/Georgia Tech Winner (ESPN2)
Thu, March 10 – Quarterfinals
Noon – No. 1 Duke vs. Wednesday Noon Winner (ESPN/ESPN2)
2:30 p.m. – No. 4 Miami vs. Wednesday 2:30 p.m. Winner (ESPN/ESPN2)
7 p.m. – No. 2 Notre Dame vs. Wednesday 7 p.m. Winner (ESPN/ESPN2)
9:30 p.m. – No. 3 North Carolina vs. Wednesday 9:30 p.m. Winner (ESPN/ESPN2)
Friday, March 11 – Semifinals
7 p.m. – Thursday Afternoon Winners (ESPN/ESPN2)
9:30 p.m. – Thursday Evening Winners (ESPN/ESPN2)
Saturday, March 12 ACC Tournament Championship
8:30 p.m. – Semifinal Winners (ESPN)
2022 ACC Tournament Prediction
The odds say there will be a rematch of Duke-UNC ahead of us but teams like Notre Dame, Miami, and even Wake Forest can make some noise. The Fighting Irish are an interesting team heading into the ACC tournament, as they struggled earlier in the season but have really found their groove down the stretch. The Irish locked up the two-seed, which means they will play either Virginia Tech, Clemson, or NC State in their first game. If they take care of business and the bracket shapes up as it should, UNC will meet them in the semi-final and Duke in the final. That is a tough stretch but doable for a team playing well within the conference.
Teams like Miami, Wake Forest, and Notre Dame need to make some noise in this tournament, but there will be casualties among them. Miami having to go through Duke is a tough draw with their sliding play over the last few weeks. While they are not the best betting value, North Carolina won five games coming down the stretch, including that final road game at Duke.
North Carolina isn't as deep as they are in prior years but winning three games in the ACC tournament isn't a huge ask. UNC is also still trying to build up their resumé, even though the recent stretch has them comfortably in the tournament picture. This team can beat anyone on any given night and they played very well in the ACC.
Duke is the team to beat, but could see them looking ahead a bit, leaving a team like UNC or Notre Dame to come out of that side of the bracket and take it down.